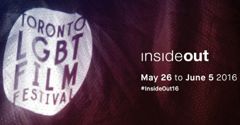 INSIDE OUT 2016 Toronto's LGBT Film Festival
The Inside Out LGBT film festival includes:
PINK CARPET PREMIERES, FRESH FEATURES AND THE BEST IN CANQUEER CINEMA,
Public tickets Have gone on since May 12 at insideout.ca
The full schedule and description of films can also be found on the site.
The Presenting Sponsor is RBC Royal Bank
Premier Sponsor: CTV
Rounding out the Festival's impressive programming this year are Galas & Special Presentations, treating audiences to exclusive premieres of the best in queer cinema; Premieres programme, offering audiences a chance to be among the first to screen the latest in queer cinematic achievements; the Spotlight on Canada series, celebrating Canada's own emerging and established talent which includes the Festival favourite shorts programme Local Heroes; and a diverse collection of films in the Shorts program.
Taking place this year from May 26 to June 5, Inside Out celebrates 26 years of showcasing the most ground-breaking, powerful and entertaining work in LGBT cinema from Canada and around the world.
GALAS & SPECIAL PRESENTATIONS
The Galas & Special Presentations will feature films that are destined to become the future classics of LGBT cinema. Making its World Premiere as this year's Women's Gala is Toronto filmmaker Sarah Rotella's ALMOST ADULTS starring Elisa Bauman and Natasha Negovanlis (stars of the popular web series Carmilla) in a poignant and hilarious examination of growing up and growing apart. This year's Centrepiece Gala is the directorial debut from actress-turned-director Clea DuVall with the International Premiere of THE INTERVENTION, a dramatic comedy featuring a stellar ensemble cast including Cobie Smulders, Melanie Lynskey, Natasha Lyonne, Alia Shawkat , Vincent Piazza and Clea DuVall herself.
This year's Special Presentations include Festival favourites Olivier Ducastel and Jacques Martineau's PARIS 05:59: THEO & HUGO, a sensitive and emotional look at intimacy and relationships against the backdrop of the city of lights; and HURRICANE BIANCA will hit this year's Festival as a World Premiere starring season 6 winner of RuPaul's Drag Race, Bianca Del Rio, as the new teacher in small town Texas who's got drag on her side.
PREMIERES
Inside Out audiences will be among the first in Canada, North America or the world to screen fresh features offered by award-winning filmmakers and their emerging counterparts in the Premieres programme. BURN BURN BURN, from British filmmaker Chanya Button, follows Seph (Downton Abbey's Laura Carmichael) and Alex (Chloe Pirrie) as they set across the UK with their late friend's ashes in tow on a quest to fulfill his dying wish; Festival favourite Ira Sachs returns to Inside Out with his subtly powerful film LITTLE MEN, an intimate character study set in New York City focused on the budding friendship between two teenage boys; the revolutionary film LOEV from Indian director Sudhanshu Saria is a film that was made in absolute secrecy following India's Supreme Court's ruling that homosexuality be recriminalized; and Andrew Ahn's breathtakingly honest SPA NIGHT, a depiction of the Korean-American immigrant experience and a look at what happens when tradition and familial expectations comes up against personal desires and the economic realities of American life.
SPOTLIGHT ON CANADA
The Spotlight on Canada programme is a bold showcase of Canadian queer cinema sure to delight, challenge and inspire. The lineup includes the World Premiere of Richard Lusimbo and Nancy Nicol's AND STILL WE RISE, a moving documentary that provides an insider's view of Uganda's LGBTI communities' fight against the Anti-Homosexual Act; CLOSET MONSTER, a distinctively offbeat and emotionally striking coming-of-age story from first-time director Stephen Dunn; Bretten Hannam's NORTH MOUNTAIN, a film full of action and romance that adds another impressive film to the growing number of Canadian aboriginal LGBT films; RE:ORIENTATIONS reconnects with seven of the original participants of Richard Fung's 1984 video Orientations: Lesbian and Gay Asians, the first documentary on queer Asians and racialized queers in Canada; and from Mark Kenneth Woods and Michael Yerxa comes TWO SOFT THINGS, TWO HARD THINGS, a thoughtful documentary following the preparations for a seminal LGBTQ Pride celebration in Nunavut.
CAPSULE REVIEWS OF SELECTED FILMS:
CHEMSEX (UK 2015) ***1/2
Directed by William Fairman and Max Gogarty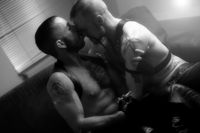 CHEMSEX is a British documentary on the subject commonly known by the North American acronym PnP which means party and play. The partying involves the use of hard drugs like crystal meth and the play is sex, mostly involving gay males. Director Fairman and Gogarty aim to educate audiences on the extent of the chemsex problem and how it is dealt within the London setting. The problem is obviously more evident in a big city where drugs can be more easily obtained just as partners who indulge in the same excesses more easily found. The film centres on David, working out of 57 Dean Street, a centre that treats the problem. Various subjects are interviewed discussing candidly their chemsex activities and if they are willing, their addiction. The camera also follows the subjects to the parties where the activities take place. CHEMSEX is an extremely disturbing documentary. The film ends on a positive note with many of the subjects in the film recovered and now leading normal lives. The hero of the piece is David of Dean Street and the villain the impulsiveness of man.
Trailer: https://www.youtube.com/watch?v=sZLqFHVnaMs
CLOSET MONSTER (Canada 2015) ***
Directed by Stephen Dunn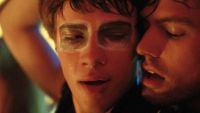 Newfie movie of an East Coast teenager and aspiring special-effects makeup artist, Oscar (Connor Jessup, BLACKBIRD) struggling with both his sexuality and his fear of his macho asshole father. Oscar has a girlfriend, Gemma (Sofia Banzhaf) but pines for the new cute boy, Wilder (Aliocha Schneider) at his workplace. The film teases all the way whether the relationship will happen, but the film takes a few turns. The film uses the boy's hamster (with a gender twist on it too) to provide insight to the story. The hamster is voiced by Isabella Rossellini. The film is a welcome comedic twist on the coming-of-age genre. The film is not without flaws but given the fact that this is a first-time feature, CLOSET MONSTER is an assured debut.
Trailer: https://www.youtube.com/watch?t=1&v=VSLEI55SS5s
DOWNRIVER (Australia 2015) ***
Directed by Grant Scicluna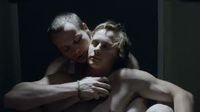 DOWNRIVER's protagonist is teenager James (Reef Ireland). When the film opens, he is just released from juvenile prison. He returns home to mother, Paige (Kerry Fox) hoping to find out the truth about the death of a child. James was sent to prison for it when the death occurred when they were kids. The film's setting is perfect for this kind of plot. The action takes place in the country where a trailer park exists close by. There is a river where the folks go fishing and there are caves and abandoned structures. But it is surprising that in such a male chauvinistic environment, almost every young male is gay or has had a gay sexual encounter. The gay sex scenes are shot mostly in the dark, making the sex appear even more erotic. Cinematographer Laszlo Baranyai does an even better job with the shots in the open. His camera glides across the beautiful murky waters of the river. The country areas outside Melbourne, where the film is shot, never looked more stunning. But one of the film's flaws is its muddled narrative. As the film progresses, there are many confusing incidents. Despite the film's flaws, DOWNRIVER is an absorbing film about youth angst. It covers universal issues like redemption, family ties, relationships, friendships and gay sex. It does not skimp on the nastiness which occurs quite a lot in the film.
Trailer: https://www.youtube.com/watch?v=-98kUEnkxHM
GIRLS LOST (POJKARNA) (Sweden/Finland/Norway 2015) **
Directed by Alexandra-Therese Keining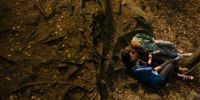 Body switching has been a favourite subject for movies like 18 AGAIN and FREAKY FRIDAY. GIRLS LOST, a tale of sexual confusion and sexual awakening based on a Swedish young adult novel takes the supernatural twist with a serious note. And it fails. There is a reason the topic is taken lightly as it is a fantasy story should not be treated as a social commentary or drama.. Keining (HOT DOG, KISS ME) is too serious with her taking the 3 girls Kim, Bella, and Momo or boys for that matter into puberty, drug use, bullying, friendships, sexual orientation and drinking. Too many questions are also left unanswered as to the reason the girls never change back at inappropriate times. The fact the film is based on a novel could be used as the blame but the film is also uninteresting and offers no insight on the issues brought up.
Trailer: https://vimeo.com/126355107
JONATHAN (Germany 2016) ***
Directed by Piotr J. Lewandowski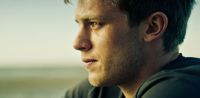 23-year old hunk Jonathan (Jannis Niewöhner) is an angry youth. He has sacrificed his life to look after his ungrateful father, Burkhard (Andre Hennicke) whose condition deteriorates. When nurse Anke (Julia Koschitz) arrives to look after him, Jonathan falls in love with Anke and the two start a love affair. No gay theme is evident in the film's firs.t 40 minutes. Director Lewandowski teases his gay audience with Jonathan's chiseled body and good looks, especially with him taking off his top countless times. But family secrets come out of the closet - one of these being his father's hidden gay relationship. The film is beautifully shot with many in the rays of sunlight in the woods and fields. The drama is relevant with an unforgettable sex scene involving the father on his death bed. The only flaw is the film sinking into melodrama. Bring lots of tissues.
Trailer: https://www.youtube.com/watch?v=rs5IVryMYK8
THE INTERVENTION (USA 2015) ***
Directed by Clea DuVall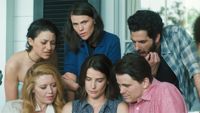 THE INTERVENTION is an ensemble piece that aims to show how good people are on the inside - never mind what occurs on the exterior. A couple could be fighting but deep down, they love each other and cannot live without sac other. One is caught kissing another by her partner, but the kissing means nothing and the love deep inside overcomes all. The story involves three couples (one of which is a lesbian couple) meeting in a summer home to intervene with the relationship of a fourth married one. They deem the marriage toxic and that it best for two to live apart. Of course, these things do not go as planned, especially since the organizer of the intervention gets drunk half the time and that each couple have problems of their own. DuVall who also stars in the film directs the goings-on fairly well. In fact the film is more believable and enjoyable than similar Hollywood ensemble comedies like MOTHER'S DAY and NEW YEAR'S EVE. The film is in reality, four different short stories connected to he intervention theme with a good bond of drama and comedy.
LAST MEN STANDING (USA 2016) **
Directed by Erin Brethauer and Tim Hussin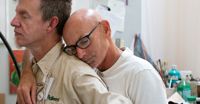 LAST MEN STANDING begins with shots of San Francisco when it stood for the first vibrant gay city in the U.S where gays flocked there to live freely and without prejudice. It then goes on to the era of AIDs describing how the streets were then emptied. The film settles on its topic of 8 men who were diagnosed HIV positive then and have not died - living 30 years beyond their diagnoses. According to the film, more than half of those living with HIV/AIDS in the United States are older than 50, many of them gay. The 8 men now past their fifties, tell their own stories. The common thread is that each needs love in the form of a companion who cares. But as well-intentioned as this documentary is, the film runs out of martial even at 66 minutes. The stories are personal but not super interesting and there is nothing really insightful provided by the film either.
LITTLE MEN (USA 2016) ****
Directed by Ira Sachs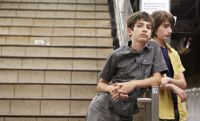 The film begins with the death of 13-year old Jake's (Theo Taplitz) grandfather. Jake's dad, Brian (Greg Kinnear) inherits the grandfather's building and they move in. Below is a store that the grandfather leases at a very low rate to a seamstress, Leonor (Paulina Garcia) and her son, Tony (Michael Barbieri). Trouble arises when Brian, still a struggling actor needs to raise the rent money as he is short of income. Leonor is unable to pay. A bad state of affairs results when Brian evicts Leonor. Oddly, there is no explicit gay theme on display in the film. The friendship that develops between the two teens hints that one might be gay (the other pines over a girl in the neighbourhood), but still one can never be sure. The hint arrives when Jake's mind immediately rushes to think of Tony when asked to write a poem above love in his English class. Sach's little film astounds in many avenues, particularly in its subtlety. But the bond that exists between the two boys is nothing short of wonderful. The film contains a non-Hollywood but a very clever under-stated ending. LITTLE MEN is a good example of how brilliant a little film with a good script and direction can turn out.
Trailer: http://trailers.apple.com/trailers/magnolia/littlemen/
OTHER PEOPLE (USA 2016) ***
Directed by Chris Kelly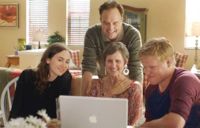 OTHER PEOPLE is the opening gala film for this year's INSIDE OUT LGBT film festival. The film directed by Chris Kelly and starring Jesse Plemons as David is ok but but nothing exceptional. It also stars Molly Shannon playing a largely dramatic role as David's mother dying of cancer with Oscar nominee June Squibb as grandma. David is a struggling comedy writer, fresh off a breakup and in the midst of the worst year of his life, returns to Sacramento to care for his dying mother. There are quite a few problems with the film. For one, there is no real reason David needs to return to care for mother as Joanna still has a husband and two other daughters. The film is laid out in months, and from the period David has returned, he has done nothing to help mother but to mope around and try to write. there (Bradley Whitford) has still not accepted David for being gay which serves yet another reason why David should stay. Audiences would rather see hilarious comedienne Molly Shannon being funny - as she really is, but her taken is stifled here. The film dos contain some good moments. The best is the one David freaks out at a grocery store unable to find laxatives only to break down crying, "I am a good person." A grocery worker suddenly shows up, points to the laxatives in from of him and then, slowly limps away. The film at least spares the audience from a sentimental death scene. Still, bring tissues!
Interview Clip: (no trailer available): https://www.youtube.com/watch?v=OFF919bw9Yc
PARIS 05:59: THEO & HUGO
(THEO ET HUGO DANS LE MEME BATEAU) (France 2016) ****
Directed by Olivier Ducastel et Jacques Martineau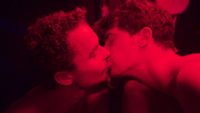 Directors Ducastel and Martineau have already wowed gay audiences with their earlier films THE ADVENTURES OF FELIX and COTE D'AZUR. Their new movie on first love will certainly be another film to remember. It begins with an X-rated 18 minutes sequence in a sex club which commonly exists as a bath house (spa) where Theo and Hugo meet and have steamy sex for the first time amidst a sea of naked men. Despite the setting, the love comes across as a sweet and 'innocent' one which is put to the test after they leave the spa. Theo (Francois Nambot) confesses that he had f***ed Hugo (Geofrey Couet) sans condom. And trouble begins in paradise. The couple also meet a Syrian kebab worker and an old lady in the metro. In a short few minutes, these two deliver an abridged but very effective view on life as they see it. Despite the film dwelling on two characters, they apparently unaffected lives in the world are put into perspective rather brilliantly. It is an absorbing film and turns out to be a sweet romantic film about first love. A perfect film to watch at Inside Out.
Trailer: https://www.youtube.com/watch?v=EWiTP8V95oU
WHERE ARE YOU GOING, HABIBI? (Germany 2015) ***
Directed by Tor Iber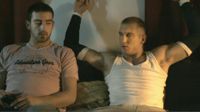 WHERE ARE YOU GOING, HABIBI? is a sweet German film with a setting around a Turkish family living in Berlin. Ibrahim (Cem Alkan), is gay and outed to his family by his sister. As a result, he is kicked out of his family home by his father. Fortunately, he is taken in by his gay-positive uncle (Neil Malik Abdullah, looking like a turkish George Clooney). Amidst all this mayhem, Ibrahim falls in love with a straight blonde German, Alexander (Martin Walde). The relationship is one of friendship that grows into something beautiful. The issues of coming out and first love are nothing new and have been treaded once too often in gay films. Yet, this sweet and non-pushy film makes it difficult to dislike. The main message is tolerance, which is important not only in the film's setting but in the entire world these days. Habibi is the Arab word for baby or sweetheart.