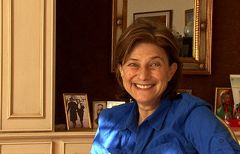 TIFF Cinematheque Presents - The films of Chantal Akerman
The recent passing away of Belgium feminist director Chantal Akerman is a sad one, as her thoughtful films always reflected on life and the living. Her last film, NO HOME MOVIE was a documentary on her mother who passed away just after the film was made. This death must have had a profound impact on her as the director passed away from suicide in October of 2015.
Three films will be capsule reviewed here, one presented in the Restoration Section and the other two in TIFF Cinematheque's Special Presentation Section.
Akerman was born in Brussels, Belgium to Holocaust survivors from Poland. Her mother Natalia had survived years at Auschwitz, where her own parents had died. Chantal Akerman and her mother were incredibly close and this is evident in the documentary NO HOME MOVIE. Akerman's feminism is strongly reflected in all her films. Her most famous film, JEANNE DIELMAN, 23 QUAI DU COMMERCE, 1080 BRUXELLES has been hailed as a Masterpiece in feminism filmmaking by many film critics and scholars.
I am personally not an avid Akerman follower though I enjoy her films, but I admire the woman as an influential filmmaker who has made an important contribution in the field of experimental cinema.
For more information of the film schedule and screening times, please check the TIFF website at:
under the Restoration and Special Presentation Sections.
CAPSULE REVIEWS:
I DON'T BELONG ANYWHERE (Belgium 2015) ***
Directed by Marianne Lambert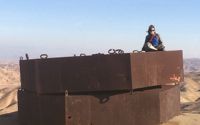 This 67 minutes documentary on filmmaker Chantal Akerman is a must-see for anyone who is fascinated with Akerman's films. The doc is an objective tribute with Akerman doing most of the talking - about her outlook in life, about her career and mostly about her filmmaking. The film contains lots of clips form her films with her voiceover offering a perspective of the many scenes. The title of the film comes about from Akerman considering herself a nomad, born in Belgium, but now comfortable in New York. Her philosophy on filming in real time, without much editing and altering views is discussed. Her conflict with actor William Hurt on his improvising is one of the film's highlights. The doc was made before Akrman committed suicide the same year in October.
JEANNE DIELMAN, 23 QUAI DU COMMERCE, 1080 BRUXELLES
(Belgique, France 1975) ****
Directed by Chantal Akerman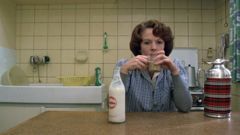 Running at 3 and a quarter hours, this art house account of mother/housewife/prostitute/widow Jeanne Dielman (Delphine Seyrig) who lives at the address of 23 Quai du Commerce illustrates the woman's schedule in 3 days before she decides to change her life with a shocking deed. Director Akerman shows the middle aged woman, Jeanne preparing food, cooking, tending her son, eating and doing daily chores that are repeated as the film treads through 3 full days of Jeanne's life. Jeanne also takes in (a matter-of-factly) male clients to supplement her income and pocket money for her son Sylvain (Jan Decorte) whom she clearly cares a lot for. Jeanne is a single mother who married an 'ugly' man. Lesbian director Akerman lets her audience know how she feels about the institution of marriage and male sex through Jeanne Dielman., making the film personal, in a way. Though repetitive tasks are shown on screen, Akerman's film is far from boring. She gives her audience time to ponder as to what is going on and to reflect on her thoughts and her film. The film is shot largely in real time with the camera in a fixed position with little editing.
NO HOME MOVIE (Belgique/France 2015) ***
Directed by Chantal Akerman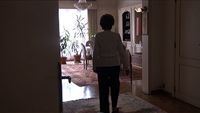 NO HOME MOVIE is a very sad and intimate documentary on the director's mother in her own home, very much like her most famous work, JEANNE DIELMAN, 23 QUAI DU COMMERCE, 1080 BRUXELLES. The film focuses on conversations between her mother and her as the mother moves about her house. Stories of years past, of her childhood, parents and thought on life surface. The happy thoughts make them laugh just as the sad ones make them think. This is a slow moving film, but one that director Akerman allows her audience to think over life and living. The mother passed away shortly after the film was competed, and this is Chantal's last film before she committed suicide. A very personal film, and one that requires a lot of thought.