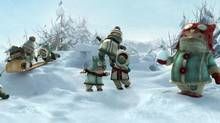 SPECIAL EDITION CINEFRANCO 2016
If you have not already heard the sad news - Cinefranco, a staple during Spring is not gong to happen due to lack of sponsorship. It is a shame as the festival of French films has been a staple in Toronto for over 10 years.
But there is a special Quebecois edition thanks to the sponsorship of Alliance Francaise (where I learnt my French for 3 years in Singapore) and la Tournee du Cinema Quebecois.
The schedule is outlined below followed by reviews of selected films.
More details can be found on the cinefranco website at:
Schedule:
CINÉFRANCO & LA TOURNÉE DU CINÉMA QUÉBÉCOIS
ARE PLEASED TO INVITE YOU TO A SPECIAL EDITION OF CINÉMA QUÉBÉCOIS
ON APRIL 16 & 17 AT THE ALLIANCE FRANCAISE DE TORONTO
SATURDAY APRIL 16 – 11:00AM
La Guerre des tuques (french - no english sub.)
SATURDAY APRIL 16 – 5:00PM
Opening cocktail of the special edition « Cinéma Québecois » - organized by par Cinéfranco et La Tournée du cinéma québécois, en partenariat avec l'Alliance française de Toronto.
SATURDAY APRIL 16 – 6:00PM
Les Mauvaises herbes ( french - no english sub.)
Actress Emmanuelle Lussier Martinez in attendance ; film followed by a 20 min. Q&A
SATURDAY APRIL 16 – 8:15PM
L'Empreinte (french w. english sub.)
Director Carole Poliquin and anthropologist Denise O'bomsawin in attendance ; film followed by a 20 min. Q&A
The film will be preceded by a screening of the documentary Cafétéria,with director Francine Hébert in attendance
SUNDAY APRIL 17 – 3:00PM
La Passion d'Augustine (french w. english sub)
Actress Diane Lavallée in attendance ; film followed by a 20 min. Q&A
SUNDAY APRIL 17 – 3:00PM
There where Atilla passes ... (french w. english sub)
Director Onur Karaman will be available for questions by videoconference after the screening.
CAFETERIA (Canada 2015) ***
Directed by Francine Hebert
Three statements sum up the gist of this utterly delightful 26 minute short. "You cannot outrun the fork," meaning that eating right is foremost in staying slim and fit. The film goes on with "It takes a village to raise a child" followed by "It takes a community to raise a village." The other two statements are demonstrated in the film in which leaders of a small New Brunswick community strive to bring the healthiest foods to young school children cafeterias across the board. The children are served smoothies, salads, fresh vegetable and fruit produce. The school board, the government, the cooks, farmers and even the students get involved. CAFETERIA is one film that makes Canadians feel so proud to be residing in such a progressive developed country.
L'EMPREINTE (FOOTSTEPS) (Canada 2014) ***
Directed by Carole Poliquin and Yvan Dubuc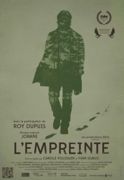 FOOTPRINTS is a documentary that serves as a history lesson on the first French settlers and the First Nations aborigines and how they worked together to create a well integrated society with intermarriages different from how most colonists conquered their land. It is a feel good film for French Canadians particularly. Actor Roy Dupuis speaks to various professors, First Nations Administrators and historians. While the film appears biased in its presentation, omitting all possible bad points, it does mention the point when things did go awry, though no details are given. The film also diversifies into the judicial system stressing the corrective rather than the punitive processes adopted. The film is preceded by another feel-good film, a short called CAFETERIA again showing how cooperation and good intentions work for the overall good for a community.
LA OU ATILLA PASSE (Canada 2015) ***
Directed by Onur Karaman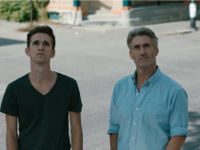 An accomplished work on the coming-of-age story of a rebellious youth called Atilla (Emile Schneider). Atilla smokes pot, smokes cigarettes, drinks and is rude to his parents. He works in a Turkish restaurant where most of his friends are Turks. It is revealed a third through the film that he had been adopted by the Quebec family he lives with and that he is of Turkish origin. His adopted mother has also just left his adopted father. He falls in love with a girl whose visa in Canada is running out. She invites him to leave for Turkey with her. Atilla is torn between staying and leaving everything in Montreal. The film is better than it sounds thanks to a solid performance from newcomer Schneider. Veteran Quebec actor Roy Dupuis (THE FORBIDDEN ROOM, J'EN SUIS) does a good turn as the tolerant father. A good but not great film that shows both the life in Quebec and the travails of what immigrants go through. Lots of issues like growing up, father/son relationship, teen love, rebellion and immigrant issues are sufficiently covered.
Trailer: https://www.youtube.com/watch?v=_hkTKGHelSM
SNOWTIME! (Canada 2015) ***
Directed by Jean-François Pouliot
LA GUERRE DES TUQUES (3D) is the highest grossing Canadian film of 2015. But very few in English Canada has heard of it. As the saying goes in the film industry, French Canadians see French Canadian films but English speaking Canadians do not see Canadian films at all - French or Canadian. So, it would be appropriate then to dub the French animated feature into English complete with an English title SNOWTIME! as if the original never existed. (Both versions re available.)
But when the film, a delightful kids fantasy set in real life progresses, it becomes apparent that the film is very Quebecois. The setting is a little village, snow covered, the typical seen in pictures of Quebec, which one kid calls the best village in the world. And the other kids believe it too.
The animated feature is based on the animated version of the 1984 family film THE DOG WHO STOPPED THE WAR (French title LA GUEREE DES TUQUES, no change here).
This review is based on the 3D English version.
The film centres on a group of children, led by Luke (Nicholas Savard-L'Herbier in the French version, Angela Galuppo in English) and Sophie (Mariloup Wolfe in French, Lucinda Davis in English), who plan and stage a giant snowball fight during the Christmas holidays. The story is unimportant. The fact that all the children appear to be having a fine time at war is all that matters. Until someone loses an eye - or a dog is hurt, as in the case of this film. As in most children's films, SNOWTIME! is one centred around the children. There are no adults around. The kids behave like adults mostly, dealing with issues such as acceptance, loyalty, friendship and chivalry, elements that make a good family or children's tale. This is a delightful Canadian film, quite unlike Disney expensive blockbuster animated features like FROZEN. Still, there are a few catchy tunes like "You are My Sweater" (whatever that means, I have no clue) performed at the end credits.
The 3D effects are well done with lots of snowy stuff tossed out of the screen at the audience. The village looks very Christmassy and the film has an overall warm and fuzzy atmosphere despite the 'war' setting.
The humour is mild at best. It is not overtly hilarious or extremely goofy, characteristics of most animated features these days. Getting brain freeze from drinking milkshakes or changing the odds of winning during an arm wrestling match are examples of the kind of humour found in the film.
The result is a rather mediocre entertaining film. The plusses of the film include the gorgeous animation on the screen, better bang for the buck that the multi million dollar products churned out by the Hollywood studios. At least Canadians can say this is our animated feature.
Trailer: https://www.youtube.com/watch?v=8NVHUxcAYGI