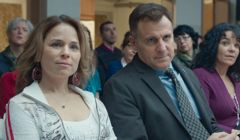 GUIBORD S'EN VA-T-EN GUERRE (MY INTERNSHIP IN CANADA)(Canada 2015) ****
Directed by Philippe Falardeau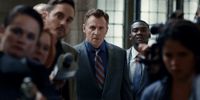 Too bad I had missed this political farce at this year's Toronto International Film Festival as this is one of the best Canadian films I have seen this year. Directed by Philippe Fallardeau who also directed two of my favourite films in the past, CONGORAMA and MONSIEUR LAZHAR, Falardeau has proven to be consistent in delivering thought provoking and entertaining fare.
Farce is a bit strong a word to describe this political film. By definition, the film is a political farce, but it is a gentile one, likeable without tearing apart any beliefs or adversely putting down any political parties or indigenous groups. The film respects all which makes it particularly affable while still getting its message of peace across. But it does condemn hypocrisy and government politics. It is an intelligent and humorous film, well acted and executed while never getting distracted from the main issue at hand.
The French title translates to Guibord Goes to War. Guibord (Patrick Huard) is an independent Member of Parliament in Canada. The film opens with him hiring an intern from Haiti, hence the English title of the film. The young Rousseau quoting Haitian intern (Irdens Exantu) ends up surprisingly aiding the hapless backbencher navigate the complexities and pitfalls of Parliament Hill.
It all happens when a Conservative minority government tries to pass a bill that will enable them to go to war. It suffers a setback when one of the Tory MPs falls ill — leaving the key vote to MP Steve Guibord. Guibord's wife (Suzanne Clément) wants him to say yes while his peacenik daughter (Clémence Dufresne-Deslières) wants a no vote. Guibord is unable to decide. At the same time, he is trying to solve highway blockages by the Natives protesting logging and polluting their land.
These are all key political issues. The film claims in the titles at the start: "Based on true events, that have not happened but will happen soon." But many of these the events have already hit close to home. In Canada, natives blocking highways in peaceful protests are common. The current Prime Minister Harper is a warmonger, sending troops to fight in foreign countries claiming to fight freedom. The actor chosen to play the P.M. looks like Harper, down to his white hair and pudginess. The P.M. bribes Guinord to cast the vote for the war while promising him the minister's seat. The P.M. is shown hilariously as a hypocrite, playing classical piano to his politicians while jamming with heavy metal music on his guitar in private.
Director Falardeau is clearly on the side of peace though he also exposes the politics of peace groups. One hilarious scene has the door of the tour bus of the peace open to white doves flying out. But when an Afghan native veteran amputee show up to correct Guibord's ambitions, it is a moving experience.
The film shows at many times both sides of an argument, illustrating how difficult it is for Guibord to please both sides. If he goes on the sides of the natives to protect their land, the miners and loggers in his ridings will lose their jobs. Guibord is also a hockey star in his youth, again the irony of a fighter now fighting for peace. At the same time, his family conflict comes into the open. Guibord discovers that his wife did not vote for him. But her answer is that politicians rarely make any difference, so not voting for him means him not going to Ottawa and she having more time with him.
This is a very moving, relevant and eye-opening political feature. A major surprise for me and one that I would highly recommend as it is the Best Canadian Film I have seen so far this year.