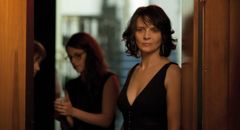 THE CLOUDS OF SILS MARIA (France/USA 2013) ***
Directed by Olivier Assayas
A smart script written about women on the dual theme of aging vs. youth and life imitating art written by director Olivier Assayas deserves better but unfortunately fails to attain the height it seeks to achieve. Part of this is due to the complexity of the plot but also due to main lead actress Juliette Binoche's annoying character.
The centre of the story is Maria Enders (Juliette Binoche), asked to perform in a revival of the lesbian play that made her famous twenty years ago. But back then she played the role of Sigrid, an alluring young girl who disarms and eventually drives her boss Helena to suicide. Now she is being asked to step into role of the older Helena. She departs with her assistant (TWILIGHT's Kristen Stewart) to rehearse in Sils Maria; a remote region of the Alps. A young Hollywood starlet with a penchant for scandal is to take on the role of Sigrid. Maria finds herself at loggerheads with her (Chloe Grace Moretz).
Though I admire Bincoche in many other other films, her portrayal as ageing stage star leaves much to be desired. For one, for a character that sophisticated and learned in life's lessons, she comes across as crass (laughing too loudly and expressing outwardly too many times her emotions) and common. The audience is supposed to side and feel sympathetic for this character, but Binoche's performance does not allow it. Kristen Stewart steals the show as her super-efficient and patient personal assistant.
There is a lot of class and high society living displayed in the film. The frequency use of classical scores and the stunning cinematography gives the film a classy atmosphere.
Though the play Maria is playing in is a lesbian one in which she plays a lesbian character, her Maria character and other characters are all straight. The lesbian undertones are still present lying just beneath the surface of the proceedings in terms on envy, playing, jealousy and other human elements.
There are parts of the script that are just plain brilliant. The sudden disappearance of the personal assistant in the mountains with no explanation given, obviously a reflection of life imitating art as the actress's young lover in the play had the same fate occur. The spilling of the cloud of Sils Maria into the valley signalling a final escape is not only gorgeously shot bit instrumental in Assayas' metaphor on his characters.