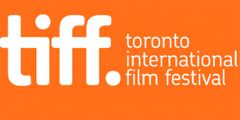 TIFF 2015 (CAPSULE REVIEWS of French Films)
That time of the year again, where Toronto goes to the movies, sleep less and get star gazed. From the 10th to 20th of September inclusive, TIFF the 40th anniversary makes it debut.
For complete program of films, ticket pricing and venue check the TIFF website at:
Book tickets now before the best deals sell-out.
Keep checking this site for capsule reviews of films. This site will be updated daily with new film reviews. Trailers of each film are also provided, subject to availability.
French films mean films that are in French or have France listed as the film's country (or one of the countries) of origin.
Happy picture-going!
CAPSULE REVIEWS:-
ARABIAN NIGHTS 1: THE RESTLESS ONE (Portugal/France/Germany/Switz 2015) **
Directed by Miguel Gomes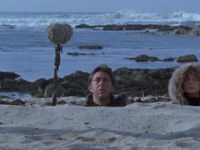 Shown at Cannes in the Directors Fortnight Section, THE RESTLESS ONE is one of three parts, each of which is 2 hours long. The reason of the films re titled Arabian Nights is the similar structure the stories follow. The first part of this film intercuts two stories - one of firemen dismantling wasps nests and the other of ship workers losing their jobs. As the narrator says, there is nothing in common with the two stories except that they are set in the same place. Gomes links other stories too with Portugal's posterity. The country is in a bad state financially (though not as bd as Greece) and it is clear Gomes blames the government. The film is at times lyrical, funny and absurd but the stories do not really gel, nor are they particularly realistic. See THE RESTLESS ONE first and the other two only if you really like the first one. Gomes also gives himself the role of a cowardly filmmaker in the film.
Trailer: http://www.flicks.co.nz/trailer/arabian-nights-volume-1-the-restless-one/12163/
LA BELLE SAISON (SUMMERTIME)(France 2015) ****
Directed by Catherine Corsina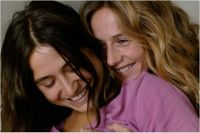 A sort of tamer and more structured lesbian love story than BLUE IS THE WARMEST COLOUR, LA BELLE SAISON follows country girl Delphine (Izia Higelin) and Paris city teacher Carole (Cecile de France) as they struggle in the 70's when gays were not as accepted as the present. Delphine keeps the secret from her parents. When father has a stroke, Delphine is forced to choose between the farm and Carole. The country atmosphere, period setting and excitement of new love all add to the desperation of their love. The sex scenes are no less steamy. Corsina achieves the task of making her audience feel for the couple, without taking any sides. The beautiful French countryside adds to the film's pleasure.
Trailer: https://www.youtube.com/watch?v=zWwVAgOr7fs
CEMETERY OF SPLENDOUR (Thailand/UK/France/Germany/Malaysia 2015) ***
Directed by Apichatpong Weerasethakul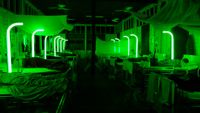 Director Apichatpong Weerasethakul known best for his UNCLE BOONMEE WHO CAN RECALL PAST LIVES arrives with his newest art piece. The film screen is black for a minute or two at the start and his characters often are found sleeping in his film. So, expect a very slow paced though occasionally beautifully shot film. His humour includes shooting a girl taking a dump in the woods and a girl licking the gross swollen leg of a friend. The film follows a young medium and a middle-aged hospital volunteer who meet at a new hospital. They investigate a case of mass sleeping sickness that may have supernatural roots. The patients are always sleeping and the medium interprets their dreams. Apparently, the Americans have tried to get her to join the FBI and tempted her with a new car and house but she prefers to be loyal to her country. CEMETERY is funny, very subtly political and typical Apichatpong Weerasethakul.
Trailer: https://www.youtube.com/watch?v=sEWBNM7mRiY
LES COWBOYS (France/Belgium 2015) ***1/2
Directed byThomas Bidegain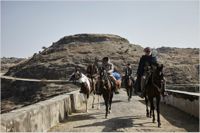 An assured piece by French screenwriter Thomas Bidegain, best known for his collaboration with French auteur Jacques Audiard tells of a 16-year odyssey to track down a man's daughter, who has run away and converted to Islam. Like in Hitchcock's PSYCHO, the lead character, the father Alain (François Damiens) is done away with before the first half of the film. The focus shifts to his son, Kid (Finnegan Oldfield) who now searches for his sister. It is a gruesome journey in a compelling film that leads to unexpected results. The film is titled LES COWBOYS because the family are western enthusiasts and Bidegain's ambitious film is a take on John Ford's THE SEARCHERS. Of course, LES COWBOYS never reaches the level of the Ford classic but the film is still well executed and entertaining.
Trailer: https://www.youtube.com/watch?v=qYxqpt1Gino
DEGRADE (Palestine/France/Qatar 2015) **
Directed by Tarzan and and Arab Nasser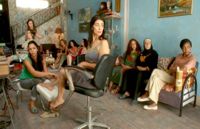 DEGRADE is a technique of lightening hair, as done in the hair salon, the setting of this comedy/drama. 13 (an unlucky number) disgruntled women preoccupied on themselves are trapped in hair salon in Gaza during a standoff between the police and a gangster in which bullets fly. You do not want to be caught in the hell of a place at this time. The women, bicker, argue and fight (there is a hair pulling fight scene) but mostly bitch and complain about the government, life, politics and men in particular. It is a nasty little male-hating film which ends up as quite the boring feature, judging from the number of men that walked out during the P and I screening. What is unbelievable is that this film is made by two brothers.
Trailer: https://www.youtube.com/watch?v=Mmm9PpU7C-I
DHEEPAN (France 2015) ***
Directed by Jacques Audiard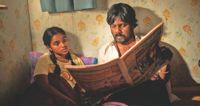 Audiard's (UN PROPHET, RUST AND BONE) latest work, direct from Cannes and a Palme d'Or Winner, is likely the first and only French film shot largely in Tamil. DHEEPAN is the name of the protagonist, an ex-Tamil Tiger from Sri Lanka who with a woman and child pretend to be a family so that they can immigrate and stay in France where fraternite, legalite and egalite apparently rule. Obviously this is not the case, and the three find it just as hard to assimilate, less survive in their hew home. Dheepan works as a caretaker and the woman as a caregiver for an old Frenchman while the girl attends school. Like Audiard's best work UN PROPHET, he shows that prison need not occur behind closed walls. The film's best segment is the one where the couple have a private talk. Dheepan confesses that he understands the entire French conversation but finds nothing funny in the joke. The 'wife' tells him it is not the joke but that it is Dheepan who has no sense of humour, even in Tamil. Unfortunately, these parts are few are far between. The film opts for a cop-out happy ending after a ridiculous shoot-out in which Dheepan utilizes his ex-Tamil Tigers fighting skills.
Trailer: https://www.youtube.com/watch?v=bfhMMDiRvzo
EVA DOESN'T SLEEP (France/Argentina/Spain 2015) ***
Directed by Pablo Aguero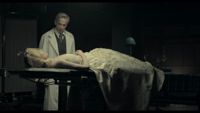 Slotted in the Wavelength section of the Festival, which means the film has an experimental nature, EVA DOESN'T SLEEP is a visionary piece and quite stunningly shot, though nothing much happens. The Eva in the title refers to Argentina's Eva Perron. Her body is the subject of the film which traces the incredible story of 25 year journey of the First lady's embalmed corpse in 1952 to 1976 where Colonel Emilio Massera (Gael Garcia Bernal) finally buried her back in Argentina after moving from Italy to Spain. The film also features Denis Lavant (HOLY MOTORS) in a realistic fight scene with Bernal.
Trailer: (unavailable)
EVERYTHING WILL BE FINE (Germany/Canada/Fr/Swe/Nor 2015) ****
Directed by Wim Wenders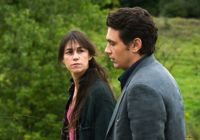 Wenders has claimed after making his first 3D documentary (PINA) that he would film his fiction film in this medium. EVERYTHING WILL BE FINE is not the typical action blockbuster with objects thrown out of the screen but rather a slow, pensive film about loss and reflection. But Wenders proves his words, especially in the last scene, in which 16-year old Christopher rides his bicycle to school in glorious 3D. The effect is difficult to describe here for it is an experience attained after viewing Wenders film in full. Thomas (James Franco), a writer, accidentally kills a little boy, Nicholas and spends years getting back to his feet regarding his guilt. His brother Christopher is still unable to cope with the incident. The brooding affects almost everyone the two encounter, and counter to the title everything is not fine in the beginning. It will, eventually, but it takes time, lots of effort and thought. Wenders has crafted a beautiful film here and one that allows the audience to get into the skin of his characters. Franco and Charlotte Gainsbourg are superb. Shot in Quebec.
Trailer: https://www.youtube.com/watch?v=r7esbR3IMdY
JE SUIS CHARLIE (L'HUMOUR A MORT) (France 2015) ***
Directed by Daniel Leconte and Emmanuel Leconte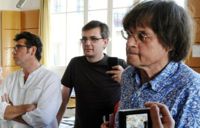 This is the documentary that attempts to make sense of the meaningless killings in January this year of the 11 journalists and dessinateurs at the French satiric magazine Charlie Hebdo. The Lecontes try, and at times too hard, creating a film that feels at times confusing and overpowering. The best segments are the interviews with the survivors, especially Cabu in retrospective and Coco a dessinatrice who by pure chance, happened to leave the room where the massacre occurred a few minutes early. The audience feels for her as tears roll down her cheek as she speaks to the camera. It is difficult not to be moved by the thousands of people that showed up in support of free press. The film is one-sided without much input from the Muslims. But in one rare segment, a Muslim leader tells the masses to differentiate the extremists from the Muslims. Still, JE SUIS CHARLIE should be seen with credit given to the Lecontes for managing to get important interviews on film.
Trailer: (unavailable)
KEEPER (Belg/Fr/Sw 2015) *****
Directed by Guillaume Senez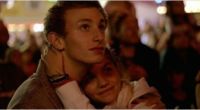 KEEPER is a coming-of-age story of a teen Maxime (Kacey Mottet Klein) maturing from his girlfriend, Mélanie (Galatea Bellugi)'s pregnancy. Maxime, a budding football star, is torn between his dream of playing professionally and his unexpected desire to be a father. Mélanie is the daughter of a single woman. They want to keep the baby but are pulled in different directions by their parents, their own ambitions and their desire to be normal teenagers. Senez's film works because he is able to express visually the points-of-view of his characters with great clarity. Take the films two best scenes. In the ultrasound segment when the teens are shown the baby in the womb by the technician moving the probe on Mel's swelled belly, the camera never once shows the image of the baby. The expressions of both teens as well as the spectacled technical are more important and the film gets maximum effect from the scene without the image of the baby. The other is the confrontation segment with the teens and parents of both, all arguing on what to do with the pregnancy. The audience is shown all points-of-view while still focusing on the boy as the main character. There are much, much more to be ecstatic for in watching this new director at work. Senez's direction, the sensitive yet powerful script by Senez and David Lambert coupled with the riveting performances of the two teens all make KEEPER an unforgettable piece and one of the two best films I have seen at TIFF. Senez is a power director to be reckoned with and I will look forward to his next work.
Trailer: https://www.youtube.com/watch?t=10&v=7T8_XhwpD7E
THE LOBSTER (Ireland/UK/France/Netherlands/Greece 2015) ***
Directed by Yorgos Lanthimos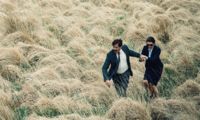 Greek director Yorgos Lanthimos' (ALPS, DOGTOOTH) new film is a love story of David (Colin Farrell) and his new short sighted friend (Rachel Weisz). But under strange circumstances. The film begins with a woman shooting a cow in a field with a rifle. The film title THE LOBSTER then appears on the screen to laughs from the audience. David's wife has just left him. For reasons not explained, David is bound for a hotel in which he will be turned into an animal of his choice (which is a lobster) if he does not find a mate in 45 days. Lanthimos carries on his film with deadpan seriousness that is a hilarious laugh out loud a minute. But the film is unable to maintain the inventiveness and slowly slides into monotony as the novelty of the idea dies away into a typical romance story. Still for what it is worth, the film is terribly entertaining in its first half. Some French is spoken as there are two French lady characters in the hotel.
Trailer: https://www.youtube.com/watch?v=WEGOI3L3IYc
LOLO (France 2015) ***1/2
Directed by Julie Delpy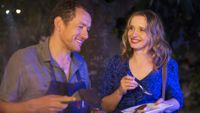 A nod to the 60's and 70's romantic comedies complete with colourful titles and music, LOLO's story is nothing new but still offers audiences fresh entertainment. Lolo (Vincent Lacoste, last seen in EDEN) is the awkward grownup son who prevents his other mother, Violette (Delpy) from settling down. The mother has just fallen in love with an IT hick, J.R.(Dany Robin) of sorts, but sonny is all out to stop the romance. Nothing new, the hick figures it all out at the end, so does the mother. The question is why she took so long and so many other lovers before she found out. Delpy plays deliberate into cliched territory including the way the lovers meet with the tuna scene. The comedic set-ups (the 2 hookers in bed, the itching powder, the virus) are not as funny as the film's one-liners (the nickname J.R.). If one does not question the intricacies of the plot, Delpy's comedy (with a lot of inside French jokes) is totally fun and funny, a sort of a much lighter side to the BEFORE SUNSET/SUNRISE movies she made with Richard Linklater and Ethan Hawke. LOLO is more similar to her other comedy TWO DAYS IN PARIS.
Trailer: https://www.youtube.com/watch?v=vJuQ1p78FIU
LOUDER THAN BOMBS (Norway/France/Denmark 2015) **
Directed by Joachim Trier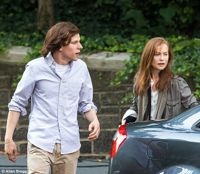 A ponderous tale of a dysfunctional family made even more dysfunctional after the death of the mother, Isabelle Reed (Isabelle Huppert) who ironically died from a car crash but survived her dangerous job as a reporter. Skeletons come out of the closet. Trier does not concentrate on any one family member but on every one. He piles the problems on and on without closure to many of them. Jonah (Jesse Eisenberg), the elder son has just and a baby with his loving wife but cheats on her. The younger, Conrad (Devin Druid) is a brooding mess, saddled with his video games, socially inept and unable to bring himself to communicate with their father (Gabriel Byrne) who needs to reveal a family secret. To add fuel to the fire, the father has a fling with Conrad's English teacher leading to dramatic violence. How will all these end? Trier's film is trying enough, well acted but the problem is that it leads nowhere and one wonders the purpose of the exercise.
Trailer: http://www.firstshowing.net/2015/first-teaser-trailer-for-joachim-triers-new-film-louder-than-bombs/
ONE FLOOR BELOW (Un Etaj Mai Jos) (Romania/France/Germany/Sweden 2015) ***1/2
Directed by Radu Muntean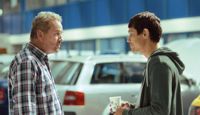 Low budget, neo-realistic Romanian films have impressed Cannes and TIFF audiences lately and ONE FLOOR BELOW is no exception. The story here centres on 50ish Patrascu, living in building when one day he witnesses a domestic quarrel ONE FLOOR BELOW that ends up in murder. But the film follows the man about his work (he helps people registers cars) and family routine before his dealing with the murder. Patarscu tells the police nothing. The murderer pretends to need Patrascu's services in order to confront him on the reason he has kept quiet regarding the murder. Expect no closed ending from director Muntean, but he takes his audience on a good ride showing the lives, attitudes and behaviour of Romanians in Bucharest, where the film was shot.
Trailer: https://vimeo.com/125085803
PEUR DE RIEN (PARISIENNE) (France 2015) ***
Directed by Danielle Arbid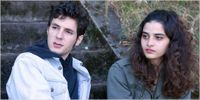 PEUR DE RIEN is the French title of the new film set in 1993 in both Paris and Beirut which translates to Fear of Nothing, a phrase that can be used to describe the young Lebanese protagonist in director Arbid's dramatic coming-of-age story. Newcomer Manal Issa plays Lina forced to study, work and survive in Paris. She is forced to leave her place of residence due to her uncle's sexual abuse. With no residence papers, money of place to live, she does her best to survive. The film's climax is the court hearing on her immigration status. Atbid's camera is always almost at shoulder level and her characters are often seen in close-up or up from waist level. This tactic forces the audience to feel that they are watching the events from Lina's point of view, making all of her experiences the more urgent. Arbid gets the audience sympathy for Lina - by having her being abused by her uncle and also spurned by two inconsiderate lovers, a rich married man and later a waiter. But she finally finds a faithful lover in a form of another student the right winged, Rafael (Vincent Lacoste). Her struggles are put into perspective by the lectures of her literature professor, wonderfully played by Dominie Blanc. But the film is a tad too long, despite it being well made, running at a minute past two hours and it is a chore watching Lina keep getting into one trouble after another.
SKY (France/Germany 2015) ***
Directed by Fabienne Berthaud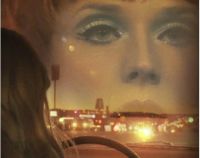 A runaway movie in which the runaway is a female fed up with her marriage. Romy (Diane Kruger) and Richard (Gilles Lellouche) are a French couple on vacation in America. They play at being free and wild in the California desert, but can't escape the shadow hanging over their relationship. A drunken night in a bar leads to a violent confrontation. Romy sees a chance to remake her life. She accidentally bashes Richard's head with a lamp and flees the scene. In the process, she undergoes a series of adventures, finding her true love at the same time. It is a female flick with a lot of segments offering a woman's point of view. Just like WILD, the female seems to encounter friendly harmless males. The film is called SKY because it is always changing. And so do the events in the story. They keep changing so that nothing is expected, which could be a good thing and bad as well. The film is an ok watch but stretches the audience's credibility. At least Kruger and Lellouche are totally watchable.
SON OF SAUL (Hungary 2015) ***
Directed by Laszlo Nemes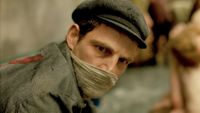 SON OF SAUL, this year's Cannes Grand Jury Prize Winner might not be the film for everyone. Lazlo Neme's film has no narrative, is minimal in structure and is difficult to follow in terms of logic or story. But still, it is a gruesome watch. Nemes' film, with cinematographer Matyas Erdely, like the Dardennes Brothers filming with a hand held camera about head level on the side of the protagonist following him using a protagonist's-eye view makes all the action feel more real. The protagonist is part of a squad in a Holocaust concentration camp with the duty of herding in the prisoners for gassing and then cleaning up. As the titles indicate, they too will normally have their turn (being gassed) after a few weeks. The hero sees a boy that survives the gassing but consequently killed. He takes it upon himself to find a Rabbi to say the prayers for the boy at all costs. This is where the film fails in terms of credibility. He is able to find a Rabbi, not get caught, find all the right connections and keeps the boy's body - all a bit too much to believe.
Trailer: https://vimeo.com/133125872
UN PLUS UNE (FRANCE 2015) **
Directed by Claude Lelouch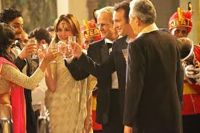 A film anticipated by many due to the fame of veteran director Claude Lelouch who made A MAN AND A WOMAN, LES UNS ET LES AUTRES and LA BONNE ANNEE just to name a few. In this romantic comedy/drama, music composer Francis Lai is reunited with Lelouch. The story also concerns a film music composer Antoine (Oscar Winner Jean Dujardin) in India who discovers his headaches could be due to a tumour. Travelling with the French ambassador's wife, Anna (Elsa Zylberstein), Antoine hopes to heal his ailment with meeting mystic, Amma, just as she hopes to carry a baby for the first time. The two have an affair. Lelouch's film has a few neat self conscious touches. Dujardin is funny and given quite the few hilarious comic lines. But Lelouch's film is overlong and the long journey to the end, just like Antoine and Anna's, is quite a bit to bear.
THE WHITE KNIGHTS (LES CHEVALIERS BLANCS) (France 2015)
Directed by Joachim Lafosse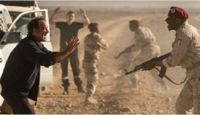 The film begins with a French adoption agency NGO rescuing 300 children from civil war in Chad. The workers are to select orphans 5 years and under and house and educate them till the age of 18. The one in charge is Jacques (the always relentless Vincent Lindon). He hires a local interpreter Bintou (promising newcomer Rougalta Bintou Saleh) who ends up having a bigger role in the story. But under the cover of night, the French discuss their exit strategy and make calls to French families about the children they'll be bringing home. Nothing is what it seems in this film that states at the start that it is based loosely on true events. Lafosse captures the desperation and danger of Chad with some exciting set pieces. The one with Jacques' encounter with British troops is very effective. Lafosse takes the film through its logical (though a bit predictable) conclusion in which the only ones still suffering are the Chad children.