TIFF NEXT WAVE FILM FESTIVAL 2020
The TIFF Next Wave Film Festival runs February 14–16, promising a jam-packed weekend with the always epic Battle of the Scores and Opening Night Party, In Conversation With... Kelvin Harrison Jr., the Growing Pains Movie Marathon, an Official Film Selection featuring some of the boldest new films from around the world.
This is the festival's 9th year, almost half the age of the festival's organizers. Best of all, the festival is totally FREE for youth under 25. There is also a chance to learn from industry pros at the Young Creators Co-Lab: a full day of panels, workshops, and film inspiration.
For those above 25, it is clear that a few of the films will not relate, so one has to be accommodating. Below are capsule reviews of selected films to be screened.
For complete information and program of films please click on the link below:-
CAPSULE REVIEWS of Selected Films:
CHILDREN OF THE SEA (Japan 2019) ***
Directed by Ayumu Wantanabe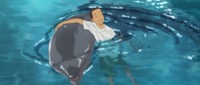 Ruka is a young girl whose parents are separated and whose father works in an aquarium. When two boys, UmiSora (the CHILDREN OF THE SEA), who were raised in the sea by dugongs, are brought to the aquarium, Ruka feels drawn to them and begins to realize that she has the same sort of supernatural connection to the ocean that they do. Umi and Sora's special power seems to be connected to strange events that have been occurring more and more frequently, such as the appearance of sea creatures far from their home territory and the disappearance of aquarium animals around the world. If all of these sound interesting, it is less so on screen. It is hard to relate with a young girl who has fondness for two weird sea creatures. For one, it does not make much sense. The sea animals are supposed to be having this big sea party here the Dolphin song are supposed to attract the party-goers. The animation in CHILDREN OFTHE SEA is commendable, with fluid drawings amidst stunning colour. But is is hard to connect with the story.
Trailer: (unavailable)
HOUSE OF HUMMINGBIRD (SOUTH KOREA 2018) ***1/2
Directed by Bora Kim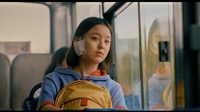 HOUSE OF HUMMINGBIRD is a quiet South Korean film about a female teen Eunhee who undergoes the typical problems faced by a schoolgirl of that age. The film is set in Seoul 1994, the year the Seongsu Bridge collapsed, with 14-year-old Eunhee (a convincing performance from newcomer Ji-hu Park) wandering the city searching for love. Eunhee has a slightly dysfunctional family with her brother beating her up and parents arguing; a boyfriend with a curious relationship; a best friend and a teacher, Miss Youngji who appears to understand her. She also has a lump behind her ear, causing some worry. All the events that place in and around school which is interesting for western audiences to see what life is like (even for a teen) in South Korea. Unpretentious, real and occasionally moving, HOUSE OF HUMMINGBIRD, runs a bit long at 2 and 1/4 hours but nevertheless is a worthy watch. The film has won more than 330 international awards from screening in festivals around the world.
Trailer: (unavailable)
SEQUIN IN A BLUE ROOM (Australia 2019) ***
Directed by Samuel Van Grinsven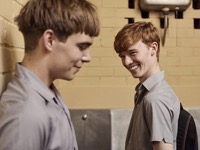 Written by director Van Grinsven and Jory Anast, though the film is quite sparse in dialogue, this is the kind of gay film that will shock straight audiences but for gay people in the know, what transpires on screen is quite commonplace or at least well known. Casual sex, sex parries saunas, abuse are all part and parcel of growing up gay. So for SEQUIN IN A BLUE ROOM (Sequin is the name of the gay twink and the blue room is code name for the place where the sex parties occur). After a chance encounter at an anonymous sex party, a sixteen year old boy hunts through the world of a hook-up app to track down the mystery man. The search turns out to be a dangerous one as he encounters a sadistic stalker. Sequin's father is of course, unaware of his son's activities. Though occasionally erotic, the film does not reveal anything really new to the gay audience who frequently attend club parties and such. The rather cop-out happy ending does not help much either.
Trailer: (unavailable)
TAKE ME SOMEWHERE NICE (Netherlands/Bosnia 2019) ***
Directed by Ena Sendijarević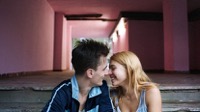 Cool-looking film in which nothing appears on the surface to be going on. The story centres on Dutch girl, Alma who leaves her mother in the Netherlands to visit her father in hospital in Bosnia. Things turn out more complicated than expected. She is met by her lazy loutish cousin Emir. She has sex with Emir's partner-in-crime. Just as director Sendijarević loves playing with weird camera angles, her characters are equally as weird. But the is Ama's coming-of-age story, done with the director's odd sense of humour and aplomb. The joinery is quite an entertaining watch.
Trailer: (unavailable)