HOT DOCS 2019 Begins this Week April 26th in Toronto.
For complete program,please check the HOT DOCS website.
(There are deals for senios and students with free movie screenings.)
Capsule Reviews of Selected Films:
ADVOCATE (Canada/Switzerland/Israel 2018) ***
Directed by Rachel Leah Jones and Philippe Bellaïche
The doc is he story of tireless and fearless Israeli lawyer Lea Tsemel who defends Palestinians: from feminists to fundamentalists, from nonviolent demonstrators to armed militants. She is not popular among the Israelis. ADVOCATE follows Tsemel's caseload in real time, including the high-profile trial of a 13-year-old boy — her youngest client to date — while also revisiting her landmark cases and reflecting on the political significance of her work and the personal price one pays for taking on the role of "devil's advocate." Directing duo Rachel Leah Jones and Philippe Bellaiche assume the privileged position of a fly on the wall of Tsemel's practice, where a year of documenting is like gathering a lifetime of evidence. The film is exciting as the two cases presented, and the audience sees not only Lea at work but how judicial systems work. Even if the accused is innocent, a plea bargain is created for the accused to plead guilty for a lesser charge or face greater penalty if found guilty. The film is hastily edited with the intercut cases and a lot of padding is evident from the life of Lea from student to her current position. The interviews of her family - husband, son and daughter break the flow the court cases.
Trailer: https://vimeo.com/320517522
BUDDY (Netherlands 2018) **
Directed by Heddy Honigmann
BUDDY follows the stories of six guide dogs and their owners exploring the close bond between animal and human. Among them are a now 86-year-old blind woman who reflects back upon all the dogs that have been at her side since she was 21, an autistic boy who explains how his loyal friend Utah can tell when he's upset and a war veteran suffering from PTSD. These owners are not very interesting to listen too and director Honihmann spends more time on the humans than the dogs. Nothing is revealed on how these dogs are trained on how they are bred or why a certain breed is suitable for different disabilites. The dogs look really sad in the way they are forced to care for their masters. I love dogs and dog movies, but BUDDY does not do anything for me nor shed any insight of these poor lovable caretakers.
Trailer: https://www.youtube.com/watch?v=-xQjL-hmPiA
THE DAUGHTER TREE (Canada 2019) ****
Directed by Rama Rau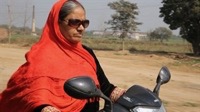 Indians are stubborn to have a boy. They abort the girls. Changing the natural order results in unbalances in the human ecology of things. There are insufficient girls to be married off and many males end up singles, unable to find a wife. Brides are often sold to willing males. The insightful doc THE DAUGHTER TREE, filmed in India is an entertaining and absorbing examination of the problem. This is a totally new Canadian documentary written, produced and directed by Rama Rau, an epic documentary film, six years in the making, about the disappearance of women in India resulting in all-male populations in some villages. If there is a feminist themed movie, this is the one as it deals with the subject from the roots. Females are just as important if not more important than their male counterparts. The film explores the aftermath of a cultural preference for baby boys sweeping through interior India, through the eyes of a fearless Warrior midwife called Neelam who counsels and advocates for baby girls, while a lone man in the Village of Men - so called because no girl has been born here the past three decades - goes on a quest to find a wife. The film is also beautifully shot by D.P. Nagaraj Diwakar. India never looks so stunning, especially not in a documentary.
Trailer: https://vimeo.com/244731236
FOR SAMA (UK/USA/Syria 2019) ***
Directed by Waad Al-Kateab and Edward Watts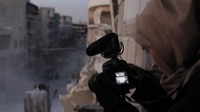 The doc begins with the image of a baby and a picture of a an 18-year old girl, that is supposed to be taken 10 years prior to the making of the doc. It turns out that the girl is Waad Al Kateab, the doc's co-director and mother of the baby named Sama. She is making the doc for her daughter Sama, detailing the experiences she and her husband went through in evacuating the city of Aleppo, Syria, where she grew up. Over the course of several years, Waad al-Kateab has been filming the uprising in her home city of Aleppo, Syria. Capturing the brutal conflict all around her comes with added personal stakes as she falls in love and becomes pregnant with her first child. The film also attests the strength of women in war. At one point in the film, the women chant: "We are resilient! We are strong." The film contains disturbing images of war. After six months of the city under siege, the camera pans the destruction of rubble and dust ads the citizens of Aleppo prepare their evacuation. FOR SAMA captures the danger and turmoil the citizens of Aleppo have gone through. Trailer: (unavailable)
INSIDE LEHMAN BROTHERS (Canada/France 2018) ***1/2
A film by Jennifer Deschamps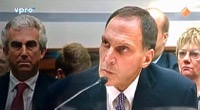 INSIDE LEHMAN BROTHER is a documentary about finance. Those involved in the world of stocks and finance will find this doc timely, insightful and interesting but how about the other group of people not dealing with the financial world. Director Deschamps, a French journalist (who co-wrote the script) attempts to bring interest to this group of people as well so that the film will have a larger target audience. The doc begins with what appears to be an ordinary woman caught in extraordinary circumstances. She is in a big residence in a large wooded area and says: "I would scream but no one would ever listen." Deschamps clearly has got her audience's curiosity piqued. As mortgage brokers for Lehman's subsidiary BNC, Linda Weekes and her Californian colleagues were at the forefront of the subprime crisis. The whistle blower is Matthew Lee then headquartered in New York, who was the first leader to have refused to validate the accounts tainted by fraudulent transactions. Former CEO Richard (Dick) Fuld Jr. is the chief villain on display, an an evil villain at that. There are appearances of President Trump (another villain) and ex-President Obama (the hero) in the film. If Deschamps's aim is to infuriate the audience at the injustice, she has done a great job. The details are explained, making up the bulk the movie.
Trailer: https://www.youtube.com/watch?v=O_2k-OXzgXY
PUSH (Sweden 2019) ***
Directed by Fredrik Gertten
Housing prices are skyrocketing in cities around the world. Incomes are not. PUSH sheds light on a new kind of faceless landlord, our increasingly unlivable cities and an escalating crisis that has an effect on us all. Cities that director Gertten examines and takes his audience to include Toronto and London. The film follows Leilani Farha, the UN Special Rapporteur on Adequate Housing, as she is travelling the globe, trying to understand who's being pushed out of the city and why. "I believe there's a huge difference between housing as a commodity and gold as a commodity. Gold is not a human right, housing is," says Leilani. The film shows that lean can make a difference as she organizes meeting around the world to combat the villains like Blackrock Funds. Gertten and Leinai will both be present during the film screening at Hot Docs.
Trailer: https://vimeo.com/324962587
PREY (Canada 2019) ***1/2
Directed by Matt Gallagher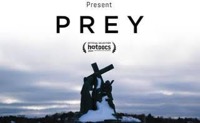 PREY opens with a shot of a man dress up in a tie and suit. He is Rob Tallach, a Civil Lawyer. He is nicknamed the priest hunter as he hunts down these priests perpetuators that prey on young boys. And he has quite a number of cases to his credit. Many have only recently come forward to speak publicly, while others have been silenced through settlements. One of the perpetrators, Father Rod Marshall, (interviewed in the movie when he was still alive) pled guilty to 17 assault charges; a colleague, Father David Katulski, called him a "very good pedophile." One of his victims, seeking closure for this traumatic part of his childhood, filed suit against the Basilian Fathers of Toronto for its role in enabling Marshall's depravity. The film is partly courtroom drama. Everyone loves a solid courtroom drama and PREY provides one of the best. But this trial was not about guilt or innocence, but about how much money the church should pay in compensation for the devastating fallout from the abuse. The climax of the film is the verdict.
Trailer: https://vimeo.com/323986619
THE WORLD OR NOTHING (EL MUNDO O NADA) (Canada 2019) **
Directed by Ingrid Verninger
The film, the first doc from Canadian director Ingrid Verninger is a portrait of 29-year-old Cuban twin brothers, Rubert and Rubildo Donation Dinza, which begins two-months after their arrival in Barcelona, Spain. The film, shot in Barcelona explores the obsession and opportunity of today's social media, the emotional cost of having big ambitions, the intimate bonds of sibling love, and the challenges of building a new life. For the brothers, "The World" means achieving one-million friends on social media, making their parents proud, starting a family, and gaining international recognition as a dancing, singing, performing duo. "Nothing" is not really an option. The twins are not particularly bright nor do they have anything worthwhile to offer, except maybe a bit of cool dancing. Why Verninger has selected these two as her subjects is puzzling. She has done better with her fiction films that are down-to-earth that offer the occasional insight on life. This one is simply boring.
Trailer: https://www.dropbox.com/s/5m82wqsb1dx13ql/WorldorNothing_Trailer.mp4?dl=0