The (22nd) ReelAsian International Film Festival is currently running in downtown Toronto and North York.
Capsule reviews of selected films (most if the main features) follows below this article.
For more information and a full schedule of screenings, please check its website at:
http://www.reelasian.com/festival/
Capsule Reviews of Selected Films
DEAR EX (Taiwan 2018) ***
Directed by Mag Hsu
This gay positive Taiwanese entry arrives timely at ReelAsian just in advance of same-sex marriage becoming legal in Taiwan in May of 2019. Taiwanese director Tsai Ming-Liang has championed the gay art house movie with films like VIVE L'AMOUR but DEAR EX is yet another worthwhile entry, looking at the gay lifestyle from a lighter though still quite serious view. The film follows three people who are linked by fate because of love and family. Adolescent Song Chengxi (Joseph Huang) loses his father Song Zhengyuan (Spark Chen) to cancer, but instead of having time to mourn, Chengxi finds himself caught in a feud between his widowed mother Liu Sanlian (Hsieh Ying-xuan) and his father's gay lover Jay (Roy Chiu). As Liu fights Jay for Song's insurance money, though it is never clear what had happened to the money. Each of three subjects are super-hyper and when they get together, there is now hostage of shouting and fighting, driving not only the other crazy but the person him or herself. It is comical to see the three interact and what is the final outcome of the film.
Trailer: https://www.youtube.com/watch?v=r94pd519Jf4
HOUSE OF THE RISING SONS (Hong Kong 2018) **
Directed by Anthony Chan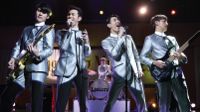 Who else best to make a movie of the band The Wynners, a Hong Kong pop sensation of the 70's than a member of the band himself? Anthony Chan started the chart-topping pop band The Wynners, the band inspired by The Beatles' visit to Hong Kong. The film traces the band's formation. Despite opposition from their parents, five young men form a neighbourhood band called The Loosers to play music and rebel against the staid conformity of their traditional upbringing. As they began to pursue their dreams, they find that the journey to stardom is never easy. Armed with grit, perseverance and raw talent, the band weathers the strain brought on by creative conflicts, personnel shake-ups and their rapidly growing popularity to become The Wynners and establish themselves as true musical legends. The cliche-ridden film is a breezy easy-going comedy that is often all over the place. This is no BOHEMIAN RHAPSODY, but a teen flick where teens can do anything while the elders are the ones who always look silly and do everything wrong. Though touted as a bio of the band, the film feels less so.
Trailer: https://www.youtube.com/watch?v=Z3HQSJcLAMU
MIRAI (Japan 2018) ***
Directed by Mamoru Hooda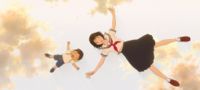 Director Mamoru Hosoda's (he started his own animated studio Studio Chizu) MIRAI is his third feature after his studios's WOLF CHILDREN and THE BOY AND THE BEAST. Again his interest in children and their fantasies are under consideration in his latest tale from the point of view of young Kun, the elder son in a typical Japanese family. When the film opens, Kun is greeted with the arrival of a new born baby sister. Things around the house are altered, as father now tends to the household chores of cleaning and cooking while mother goes on full time work. Emotions like jealousy and anger start to emerge. Kun fantasizes meeting his sister when she is grown up as well as his dog, humanized while shown how to ride a bike by his late great grandfather who was in the Japanese navy. The film's animation is somewhat similar to Studio Ghibli's in look and feel, especially since both studios are fond of animal creatures and Japanese folklore. MIRAI is simplistic in its theme, just about a boy growing up, and it is this simplicity that the film works its charm.
Trailer: https://www.youtube.com/watch?v=6d-lsJZgmJs
RAMEN SHOP (Singapore/Japan/France 2018) ***1/2
Directed by Eric Khoo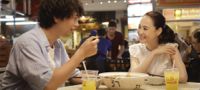 The third film of Singaporean director Eric Khoo named after noodles (after MEE POK MAN and WANTON SOUP) RAMEN SHOP shows Khoo at his sappiest and most melodramatic. Despite this flaw, RAMEN SHOP still shows the director's brilliance especially when he meticulously examines both sides of the Singapore-Japan relationship. Not many westerners are aware that the Japanese did far worse than the Nazis in torturing their enemies especially during the Japanese Occupation in Singapore during WWII. The film sees a young Japanese, Masato (Takumi Saito) travelling to Singapore to discover his roots and to make peace with his grandmother (Beatrice Chien). This is achieved with the help of his comical uncle (Mark Lee) through the fine-tuning of a gourmet dish - bak-kut-teh. This is Singapore as it really is, as depicted by Khoo in all his movies where the Chinese speak 'Singlish' and not perfect English with a western accent as in CRAZY RICH ASIANS and where the citizens live in cramped single or double roomed flats and not in mansions holding extensive parties. Khoo is Singapore's film pioneer and his films have won awards the world over including at Cannes. This is the chance for Reel Asian fans to watch a quality film made by a top-notch Singapore director.
Trailer: https://www.youtube.com/watch?v=joHJKFC77ic
TOMORROW IS ANOTHER DAY (Hong Kong 2017) ****
Directed by Tai-Lee Chan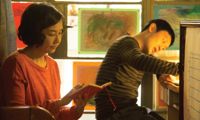 Don't let the ordinary sounding title fool you. This one is the best of the films I have previewed at Reel Asian 2018. Mrs. Wong (Teresa Mo) knows her husband, a driving instructor (Ray Lui) is having an affair, but for the sake of their marriage and their autistic son (Ling Man Lung), she chooses to silently endure his infidelity for the time being. What follows is an extremely realistic, heartfelt drama of a working-class woman struggling to breakthrough her midlife crisis. One cannot help but feel for the central character, Mrs. Wong. Director Chan lets us into the reason she persists. Two reasons, one which is her son who occasionally shows how loving he is The other is that she has little other alternatives. TOMORROW IS ANOTHER DAY and there is nothing one can do about it r can one? At the film's mid-point, the film turns into a suspense thriller as Mrs. Wong decides to stab the husband's mistress to death. Besides the compulsive storyline, Chan's camera also shows the beauty of Hong Kong as a city as well as the terrible gossip that exists in every neighbourhood in such a closed community as Hong Kong. Teresa Mo (showing both the character's vulnerability and ferocity) and Ling Man Lung both win acting honours at the Hong Kong Film Awards.
Trailer: https://www.youtube.com/watch?v=8FF-BiUHpUc
WISH YOU WERE HERE (China/Japan 2018) **
Directed by Kenneth Bi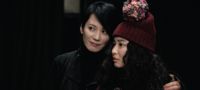 Kenneth Bi's third film follows the tone of his early films THE DRUMMER an RICE RHAPSODY - slow and pensive. I am not really a fan of Bi as his films require a bit of patience to reap their rewards. On the eve of her latest fashion showcase in Beijing, successful entrepreneur Yuan Yuan is approached by Keiko, a mysterious young Japanese woman. An admirer of Yuan Yuan's career, Keiko has learned Mandarin and fashion design for a chance to speak with her idol. As Yuan Yuan takes Keiko under her wing, long suppressed memories begin to surface of her time in Hokkaido and the husband she'd left behind. Yuan Yuan finally builds up the courage to visit the small town she left behind more than 20 years ago in order to confront her past decisions and face her deepest fears. A journey of forgiveness and reconciliation, his latest film is an examination of a woman traversing through modernity and tradition; youth and maturity; past and future. The closing night film.
Trailer: (unavailable)