THE ITALIAN CONTEMPORARY FILM FESTIVAL (ICFF) 2018 (TORONTO Version)
The ICFF is the biggest festival of Italian films in Canada, presented in a variety of Canadian cities including: Toronto, Vaughan, Vancouver, Hamilton, Montreal and Quebec City.
Inaugurated as a grassroots non-profit film festival in 2012, the Italian Contemporary Film Festival has grown to become one of the largest Italian film festivals outside of Italy. Each year, the ICFF is proud to present an inspiring lineup - the best from newly released Italian and international cinema. All ICFF films are subtitled in English (or French in the Province of Quebec) as most are in Italian or other foreign languages.
Starting June the 14th, an international collection of Italian feature films, documentaries, and shorts, including premieres, advance screenings, and independent films will make their debut inToronto. Screenings are supplemented by guest appearances by filmmakers, actors, authors, academics and other expert speakers and complemented by Q&A sessions. The festivities include a Gala Opening Night Dinner and a sit-down Closing Night Dinner with great food and entertainment.
For more and compete information about the festival and schedule of films, check the website at:
The ICFF also contains a variety of programs that run throughout the year. Our main programs are the Film Festival in June, our year round screenings, and our ICFF Youth Festival in May
Yours truly is on the jury to select the Best Film of the festival. As such, I am able to provide capsule reviews of most of the films screened. See below for the Capsule reviews.
CAPSULE REVIEWS OF SELECT FILMS:
A CASA TUTTI BENE (THERE IS NO PLACE LIKE HOME) (ITALY 2018) ***
Directed by directed by Gabriele Muccino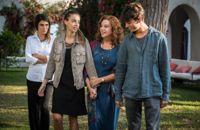 The Italians are known to be hot-blooded people. In A CASA TUTTI BENE (direct translation: At Home, Everyone is fine), a big Italian dysfunctional hot-blooded family celebrate a Golden Anniversary on an island. Alba and Pietro have been married for 50 years. They live on an island. To celebrate, they invite their children, their wives,, ex-wives, children and other assorted relatives to attend. A recipe for disaster, especially when a storm brews and ferry services are cancelled with the dysfunctional family unable to leave the island. Envies, jealousies, past loves surface. At one point, even Pietro screams, when things get too out of hand: "When are they going to get off this fucking island?" Though the setting sounds like a perfect comedy premise, there is more drama than laughs. It takes a while for the audience to figure out who is who and who is related to whom and what each quarrel is about. The film does not always work (the tacked on happy piano sequence), but when it does, the characters really grab you. One cannot help but feel sorry for some of them. Everyone deserves to be happy . But director Muccino deftly manoeuvres his film effectively with some good dramatic set-pieces. His film seems to work as the film became number one at the Italian box-office two weeks in a row when it first opened.
Trailer: https://www.youtube.com/watch?v=_Qi0dH6Frj8
CINDERELLA THE CAT (Gatta Cenerentola) (Italy 2017) ***
Directed by Alessandro Rak, Ivan Cappiello, Marino Guarnieri, Dario Sansone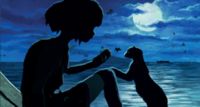 Gatta Cenerentola is a 2017 Italian partly musical animated film directed by Alessandro Rak (who previously directed The Art of Happiness) and 3 others loosely based on the Giambattista Basile's fable of the same name and Roberto De Simone's musical La Gatta Cenerentola. It is yet another musical based in Napoli dealing with the Camorra (the other being LOVE AND BULLETS screened at the ICFF). The plot is set in a decaying future Naples and concerns a mysterious mute teenager called Mia who struggles to escape from her vicious stepmother Angelica. Mia's scientist father loves and marries Angelica who wants money and fame. Angelica is secretly in love with Camorra crime boss Salvatore Lo Giusto who murders Mia's father. Mia is treated badly by Angelia and her 5 daughters and campy cross-dressing gay son. The story resembles the Cinderella fairy tale from the wicked stepmother, ugly stepsisters, glass slipper and Mia's Prince Charming who eventually saves her. Despite being a fairy tale, the film contains dialogue with lots of swearing, nudity, fondling of breasts and violence. It is hard to tell what the target audience the film is aimed at. The animation looks charming and colourful enough like a fairy tale. Still, CINDERELLA THE CAT is quite an original and entertaining film.
Trailer: https://www.youtube.com/watch?v=85GJEWYyrPw
COUCH POTATOES (Gli Sdraiati)Italy 2017) ****
Directed by Francesca Archibugi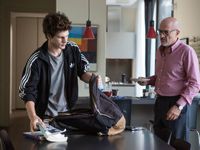 This is my favourite of the festival, partly because I can relate to the theme of a difficult son and his relationship with his father. This a relevant comedy adapted from the book by Michele Serra, where parents are separated and adults have difficulty relating less controlling their teenage children. The father is Giorgio (Claudio Bisio) also called 'Past his due date' by the son and 'loser' by his son's friends, a highly respected TV presenter. When the film opens, Giorgio has custody for the next few days of 17-year old son, Tito (Gaddo Bacchini) who with his friends invade the father's home spilling yogurt and smoking up in the room. Tito has a girlfriend, Alice (Ilaria Brusadelli) who turns out to be the daughter of Giorgio's old flame, Rosalba (Sandra Ceccearelli) which means that she and Tito could be step-siblings. But it is the father/son relationship that is the subject of the film, and this is seen from both son and father's points of view. The funny thing is that the son is a real prick to his father who is at wits end as to how to control this son of his. When the son is injured from falling off a roof, the relationship improves. The film does not always provide solutions to the problems presented but who really cares? COACH POTATOES is a totally charming heartwarming comedy, full of emotion and relevance and it is very, very funny. The original music composed by Battista Lena is amazing.
Trailer: http://cineuropa.org/en/video/rdid/343293/
EMMA (l Colore Nascosto Delle Cose -THE HIDDEN COLOURS OF THINGS)(Italy/Switzerland 2017) **
Directed by Silvio Soldini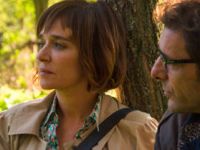 EMMA is basically a romantic comedy with a slight difference. One of the couple, in this case the female is blind since the age of 16. Emma (Valeria Golino), the blind osteopath meets general womanizer Teo (Adriano Giannini) on an outing which takes place totally in the dark. Mersmerized by her sexy voice, Teo uses his charms to make her his new target. The film tries to remain cool and respectful despite the fact that this is romance with a kinky twist which translates to prejudice against the blind. So how does one do an erotic scene between a blind woman and a man? Eroticism is provided when Teo goes for a complete physical emanation conducted by her when two is in the nude. She uses her bare hands (no gloves) to press certain parts of his body. "It takes pain to heal," she advices him during the examination. "You notice how the waiter ignores me, I am blind, not deaf." Despite a few ideas and difference in this romantic comedy, the well-intentioned totally predictable Harlequin romance fails to entice, entertain or enlighten. A total grope in the dark with no light at the end!
Trailer: https://icff.ca/movie-2018-il-colore-nascosto-delle-cose/
THE GIRL IN THE FOG (La Ragazza nella Nebbia)(Italy/France/Germany 2017) ***1/2
Directed by Donato Carrisi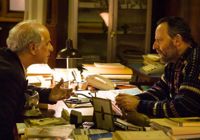 Italian author Donato Carriso makes his film writing/directing debut with a top notch European-style mystery thriller set in a small mountain community of Avechot where a girl goes missing a few days before Christmas. She was last seen going into a fog. The film opens with a meeting between the psychiatrist (the always excellent Jean Reno from the Luc Besson films) of Avechot, and police officer Vogel (Toni Servillo), famous for his inquiries and love of television appearances. Then there's a flashback: young Anna Lou Kastner, daughter of parents belonging to a fraternity of religious fanatics, leaves home two days before Christmas and disappears into the fog, allegedly abducted by a maniac assassin. Vogel arrives to investigate along with the television troupe, including hyenic journalist Stella Honer (Galatea Ranzi). The first to be suspected is a mischievous kid, which then points the investigation towards a charming but well-behaved high school teacher (Alessio Boni). But nothing is what it seems. Carrisi accomplishes the task of keeping his audience glued to his well played out whodunit with his expert but flawed inspector.
Trailer: https://www.youtube.com/watch?v=IZpThEgTtyM
LIKE A CAT ON THE HIGHWAY (Come un Gatto in Tangenziale) (Italy 2017) ***
Directed by Riccardo Milani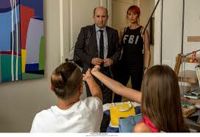 LIKE A CAT ON THE HIGHWAY refers to the length of time a teen like the protagonist's son's romantic relationship will last. The film begins like an Italian version of BLOCKERS. The father, Giovanni (Antonio Albanese) trails his daughter as she meets up with her new tattooed boyfriend. The trail leads him to a poor rough area where his windshield is smashed by a woman with a baseball bat. Following him to the apartment, he finds that the girl's mother, Monica (Paola Cortellesi) is the one who smashed his windscreen. Things take a turn when they end up all going for a picnic together on skull island, a very poor man's beach. It is the same old story where a privileged rich man meets a poor rough lady and they both end up learning about life and each other. Still, despite treading on familiar territory, Milani's film has its charms, thanks to the two wonderful leads. The jokes come off quite hilariously, the segment with the bored Monica and Gio watching a foreign film in an art-house cinema being the funniest. Milani fortunately holds off any romance with only a hint of it at the very end. Charming and entertaining fluff!
Trailer: https://www.youtube.com/watch?v=PkGShSJaTo0
LOVE AND BULLETS (AMMORE ET MALAVITA) (Italy 2016) ***
Directed by the Manetti Bros.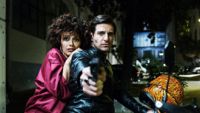 LOVE AND BULLETS is the Italian acclaimed crime musical comedy that won Italy's David di Donatello Awards Best Film Award this year. It follows a Naples Camorra crime boss' wife faking of her husband's (The Fish King) death in order for them to live their rest of their lives comfortably without fear. When the top henchman, Ciro falls in love with the nurse, Fatimah he is supposed to kill (as the nurse has seen the boss alive) the star-crossed lovers become the next targets. The film both suffers and benefits from a weak narrative, unmemorable and catchy songs though one won the Italian film award for Best Song and campy performances all the way through. One has got to love the most shameful plagiarized segment of the film where Fatimah sings the FLASHDANCE song ("What a Feeling") with the film's own Italian lyrics. Fatimah sings as if it was the best original song in the world. One has to admit the Manetti Bros. (who wrote and directed the film) have balls, gall and spirit! New characters pop up into the story every 15 minutes or so. I hated the first 20 minutes of the film but fortunately did not give up on it as it got much better eventually becoming quite the crowd-pleaser.
Trailer: https://www.youtube.com/watch?v=9HMd5SGOUyE
THE PLACE (Italy 2017) **1/2
Directed by Paolo Genovese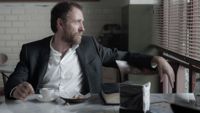 Arguably the most touted film of the ICFF and the film chosen to close the last Rome Film Festival, this high concept film has a setting in a bar called THE PLACE. The neon sign brightly lights up the bar entrance in repeated scenes. At a fixed table, a mysterious man meets up with 10 different strangers one at a time. The man offers each stranger a chance to better him or herself on a certain condition to be met, which might not be an easy one. A blind man gets a chance to regain his sight if he rapes a woman. A nun who has lost her faith is given a chance to redeem it if she loses her virginity and gets pregnant. As the film progresses, the man meets each stranger a repeated times. Is this man the devil or an angel of God? The film investigates the beast inside every person just like the similar film BEASTS which also opens this week. Director Genovese uses different camera tactics (different angle shots) to vary the monotony of the one idea film, but the film leads nowhere. The film contains an all-star cast that Italians will more likely be familiar with. A disappointment after hearing all the hype about this film.
Trailer: https://www.youtube.com/watch?v=sJQR1FESfKM
ROAD TO THE LEMON GROVE (Italy/Canada 2018) **
Directed by Dale Hildebrand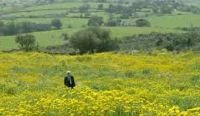 The ad for the film goes "When life dishes you lemons…" The film's lead character is sure dished out a whole lot of lemons. Guido (Nick Mancuso), a lecturer at the University in Hamilton, Ontario, Canada is given one mission by his recent deceased father, who keeps appearing as a ghost speaking in broken English with an Italian accent. Guido is to spread his ashes in the lemon groves of Sicily, while reunite two feuding families. Hopefully while doing the mission, he will also discover the heart and soul of who he really is and maybe win the heart of a beautiful Sicilian (Rosella Brescia). If all this sounds like quite serious stuff, it isn't as director Hildebrand is more interested in cheap clownish Italian humour. Mancuso portrays Guido as quite the clown and even the ghost of the father is quite the goof. Lots of manic situations and Italian gestures. A message here is to preserve old languages which is what the professor teaches to his sleepy and uninterested room of students. Hildebrand does manage to get some good solid laughs from his comedic set-ups. Any messages on preservation of language or doing good are lost in Hildebrand's fondness for clownish humour.