LET THE SUNSHINE IN (Un beau soleil intérieur)(France 2017) ***
Directed by Claire Denis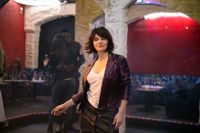 LET THE SUNSHINE IN has been touted by critics as Claire Denis in lighter form. From the film's opening scene with Juliette Binoche having sex with an older man taking too long to reach orgasm, lighter form might still be very serious to the average moviegoer. Denis' films as the director herself, is not always say to take, the director recently giving her interviewer for THE GUARDIAN a hard time at all the questions asked, but her films are often more rewarding and a challenge than the typical Hollywood kitsch. LET THE SUNSHINE IN is not a comedy but a drama. It follows its heroine, Isabelle (Juliette Binoche), a middle aged divorced painter living in Paris, as she looks for love.
Isabelle's love encounters, each lasting some months or so. The first is the banker (Xavier Beauvois), next, a good-looking actor (Nicolas Duvauchelle), then, a fellow artist (Alex Descas) and lastly her ex (Laurent Grevill). The film can be divided into 4 separate segments bound by one theme followed by a conclusion.
For each of the segments and lovers, Isabelle exhibits the same personality - that of a head strong, intelligent woman wanting to find true love and a relationship but just meeting the wrong men. The common trait is her frustration often leading to anger when she is unable to get what she wants. She ends up ditching the lover and moving on to the next one. It is interesting to note that she always starts off on a wrong footing. The first one, she tries is a married man, another she picks up at a club, and another one her ex, whom she had, had before.
Denis allows her audience to see what is wrong with each man and emphasizes their faults. The banker is seen to be the worst, abusing a waiter at the bar where they have a drink. "Put the water there," he insists to the waiter. "I need hot water." He also has the gall to tell Isabelle that his wife is extraordinary but she only charming. It takes great pleasure later to see Isabelle tell him off and slam the door in his face.
The film has a unexpected ending in the form of a segment involving Isabelle and a fortune teller played by no less than Gerard Depardieu. Depardieu delivers a speech on Isabelle's love lives even going down to specifics on whether a particular lover might or might not work out. This ending looks like a cop-out with a too all written out conclusion dished out to the audience, which goes against the flow of the rest of the film.
Denis' film is a very intriguing watch as Denis makes very emotional wrenching films often dealing with characters unable to get out of the rut their themselves have gotten themselves in as in CHOCOLAT, her first and one of there best films. LET THE SUNSHINE IN is aided by an extraordinary and charming performance by her star Juliette Binoche.