HAPPY END (France/Germany/Austria 2017) ****
Directed by Michael Haneke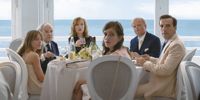 Austrian director Michael Haneke, whose last film in 2012 AMOUR won both the Best Foreign Film Oscar and Cannes Palme d'Or returns with a sequel that continues the exploits of the Laurent family. Though critics at Cannes were generally unimpressed with HAPPY END, the film is still not without its artistic pleasures. For one, Haneke still shocks with this film, though on a lighter scale.
HAPPY END can be seen as a film that infuses many of the traits of Haneke's previous films. When the film opens, the audience sees what is happening though the recording on a cell phone, the routine of a 12-year old (Fantine Harduin) similar to the video surveillance in Haneke's film CACHE (HIDDEN). This 12-year old is not one to be tampered with. She has a mean streak, spying on her father's (Matthieu Kassovitz) computer and discovering his affair and poisoning a girl she dislikes at camp and her pet hamster. This is reminiscent of the power of children in Haneke's THE WHITE RIBBON. The bourgeois French family is held together by Anne Laurent (Isabelle Huppert), the father's sister. But suicide is in the mind of Anne's father, Georges (Jean-Louis Trintignant). In Hanake's first film, THE SEVENTH CONTINENT, the whole family committed mass suicide after a banquet meal. The dysfunctional family is all reminiscent of FUNNY GAMES in which a family is disrupted by a home invasion.
HAPPY END follows AMOUR where Anne has taken over the family business from Georges. The business has also just suffered a mishap in which several employees were killed. The CEO of the company is Anne's deadbeat son (Franz Rogowski) who is hot-tempered and mentally unstable. At the same time, Anne is being engaged to be married to her tolerant fiancé (Toby Jones). All the events are seen from the point of view of the 12-year old, which brings the film to a good focus.
HAPPY END is a film that looks at the entire Laurent family rather than one or two characters as in Haneke's other films. It is also lighter and funnier with death often just brushed off. In the scene when the servants' daughter is bitten by a dog, Anne arrives with a box of chocolates.
But HAPPY END is serious in its consideration of suicide. Georges, in a comical scene, asks his tailor of 20 years to help him with getting him a gun or poison to end his life. Georges has already made one attempt on his own life by driving his car into a tree, but the family and cops have suspicions as the car left no tire brake marks.
The film ends with the wedding celebration of Anne rudely interrupted by her unstable son, Pierre with refugees from a nearby camp in Calais.. Hanake cleverly places the European migrant crisis into the the film's plot in the film's climatic wedding scene . But Anne is able to deal with him, in a comical, unexpected way. (She breaks his finger.) The ending is just as funny and shows that life goes on, happy or not. What constitutes a HAPPY END, is the question Haneke poses.
HAPPY END flows so smoothly that it demands a second viewing to examine what one might have missed. The film is shot in French.
Trailer (en Francais): https://www.youtube.com/watch?v=W0hv8I9YbDk