THE ITALIAN CONTEMPORARY FILM FESTIVAL (ICFF) 2017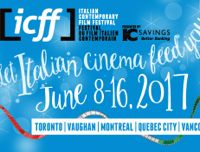 Now in its 5th year, the ICFF has grown to the the largest Italian film festival outside of Italy. Each year, ICFF is proud to present an inspiring showcase of the best new Italian and international cinema.
The ICFF is presented simultaneously in the cities of Toronto, Vaughan, Montreal, Quebec City, Hamilton and Vancouver. A total of 9 Days and Nights of cutting edge Italian film & culture is devoted for the festival.
ICFF has been named one of the Top 10 Film Festivals in North America with
Industry Events with internationally acclaimed filmmakers and producers and
North American premieres and Italian‐Canadian independent films
There are celebrity guests that will be present throughout the festival with Q&A sessions with filmmakers, actors and academics.
Glamorous Opening and Closing Galas (and parties) are held at prestigious venues.
Besides recent films, the Vittorio de Sica Masterpiece MARRIAGE, ITALIAN STYLE and Toronto's own CUBE will be screened.
Capsule reviews of selected films:
SETTE GIORNO (7 DAYS) (Italy/Switzerland 2016) ***
Directed by Rolando Colla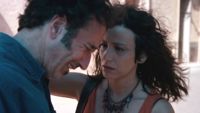 The love affair between two unlikely people, a botanist (Bruno Todeschini) and a costume designer (Alessia Barela) who meet at small Italian island to plan a wedding - he for his dying brother to be married to her best friend. He is irritated by the island folk while she is charmed by them. Their differences obviously mean that the two will fall in love and argue. The story unfolds in 7days, with the titles Day 1 to Day 7 of the wedding day. It is the second day that the couple first kiss, and the third that the love making begins. The chemistry of the pair is weak and the romance hardly believable since the woman is supposed to be currently in a 15-year relationship. Will the couple stay together after the 7 days? That is the question, but director Colla fails to arouse enough interest for anyone to really care. The film contains one good moment when an old couple, initially shown fighting, is revealed to be one that cannot live without each other. The underwater segments and the sunlit landscapes shot by cinematographers Lorenz Merz and Gabriel Lobos almost make the film worth it. The film also has wonderful local folk music performed by the island-folk.
Trailer: https://www.youtube.com/watch?v=HRjLPvNX-vI
AT WAR WITH LOVE (IN GUERRA PER AMORE) (Italy 2016) ***
Directed by PIF
Set during the Second World War in July '43 when Allied forces landed in Sicily, the movie tells the story of Arthur and Flora both living in New York City who want to marry, but cannot, because Flora has been betrothed to someone else. So, this incurable romantic joins the American army so that he can return to Sicily to ask the father's permission for his love's hand in marriage. Things get complicated on the way as he is targeted for assassination by the local Mafia and he somehow becomes instrumental in turning the tide on who is winning the War. It is an off-beat blend of comedy and romance with some war action thrown in. Not everything works, but the film is well shot with WWII atmosphere with a solid fairy tale ending.
Trailer: http://cineuropa.org/vd.aspx?t=video&l=en&did=318545
FIORE (FLOWER) (Italy 2016) ***
Directed by Claudio Giovannesi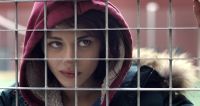 Young Daphne has nowhere to go. When the film opens, she is shown robbing innocent bystanders of their cellphones with an accomplice, earning some cash by selling them to a man. She is ousted from her dwelling where her friend's father returns home. While robbing on her own, she gets caught and sent to a youth detention centre. Director Claudio Giovannesi ensures that the audience is clear that Daphne is not a likeable or nice person. She steals from her cellmates, get into fights and shows no remorse. Still a human being should not be denied the possibility of love. Daphne falls in love with Josh, who is also a young robber. Men and women cannot meet in jail and love is forbidden. Daphne and Josh's relationship is only based on glances from one cell to the other, short conversations through the bars and secret letters. FIORE is the story of a teenager's desire for love and the power of an emotion that breaks every law. Unfortunately, it is hard for a film that has its characters gone so far down the road to have a happy ending.
Trailer: https://www.youtube.com/watch?v=XBpVt7SiLVM
INDIVISIBILI (INDIVISIBLE) (Italy 2016) ***
Directed by Edoardo De Angelis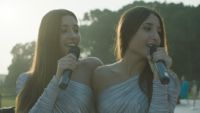 This film holds the weirdest plot of all the films screened at the ICFF. INDIVISIBLE refers to the indivisibility of a set of Siamese twins (born at birth) now reaching the ripe sexual age of 18. Dasy (Angela Fontana) and Violet (Marianna Fontana) are blessed with beautiful voices and are sought after to sing at weddings, communions and baptisms. Their real draw is that that they are a curiosity piece. Their father milks his daughters to the fullest for money, squandering it mostly in gambling. Things look bright when a doctor in Switzerland (where else?) offer the chance of separating them without charge. This is the chance for each twin to lead a normal life. Their father refuses. They escape with no money to travel. De Angelis treats his film a bit too seriously complete with religious overtones and metaphors. It is never clear what the main purpose of the film is but the audience is at least sure that separation also involves an emotional separation besides the physical one.
Trailer: https://www.youtube.com/watch?v=4ZKUoEAGfY4
MARRIAGE, ITALIAN STYLE (MATRIMONIO ALL'ITALIANA) (Italy/Fr 1964) *****
Directed by Vittorio De Sica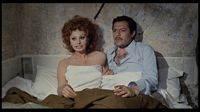 Simply put, MARRIAGE, ITALIAN STYLE is the best romantic comedy of all time. Full of heart, Italian charm, romance, emotion, drama and tons of laugh-out loud laughs this is one must-see film that will blow you away. Based on the play Filumena Martunaro, the film begins with the World War II era story of a cynical, successful businessman named Domenico (Marcello Mastroianni), who, after meeting a naive country girl, Filumena (Sophia Loren), one night in a Neapolitan brothel, keeps frequenting her for years in an on-off relationship (as she continues working as a prostitute). He fools her to meet his mother only to have her take care of her - an ailing, senile woman, who comically, dies in the film's next scene. She fools him to marry her, him believing she is about to die. She reveals to him to be the mother of 3 sons, one of which is his. Typically Italian, the film is full of shouting and full of keen observations on Neopolitan life. Loren, nominated for the Best Actress Oscar is simply magnificent and beautiful in every way, especially in the scene where she climbs out of the window of a bus. The film was also nominated for the Best Foreign Film Oscar.
Trailer: https://www.youtube.com/watch?v=6HBsHSCkfbo
NOT MY RELIGION (MESSY CHRISTMAS) (Non c'è più religione) (Italy2016) ***1/2
Directed by: Luca Miniero
The film begins like a documentary that states that not only is the population of the world in terms of birth rate, dwindling, but more so for the Italians. On the small Mediterranean island called Porto Buio, a real life nativity scene is a traditional Christmas event. Unfortunately,this year the child who's played baby Jesus for years has completely outgrown the role, and there's no one to replace him –the island hasn't celebrated a birth in years. So is the connection of the low birth rate of Italians. With this fundamental tradition on the line, newly elected Mayor Cecco wants to ask the Tunisian community that lives on the island to "borrow"one of their children, but difficulties could arise as there's conflict between the two communities. Things get funnier and worse when the mayor calls on old friends to aid him in this challenging feat. Though director Mineiro's film is all over the place, one must give him credit for a very, very funny film with laugh-out laughs around every corner. The first half of the film is extremely manic and funny, and the film loses a bit of momentum during the second half. But more and more are added to the plot including the major's daughter being pregnant unexpectedly by his best friend who ha converted to becoming a Muslim.
Trailer: https://www.youtube.com/watch?v=pLI5OAAjuHM
ORECCHIE (EARS) (Italy 2016) ***1/2
Directed by Alessandro Aronadio

An off-beat Kafla-ish film appropriately shot in black and white with odd framing, that has the running joke of the protagonist having the problem of annoying ringing sound in his ears. His efforts on getting the condition checked is made even more ridiculous (in the ilm's most hilarious segment) when the examining doctor plays a prank on him, making him think that he is pregnant with a baby. The man goes around trying to find out who his friend Luigi is, the one who has just died and who's funeral he is supposed to be attending, based on the note left on the fridge by his girlfriend. It is a tragic-comedy dealing with loss of romance and purpose of life as well as a disconnection from reality. Everyone around him seems to be acting really weird but oddly enough, they convince him that he is the one acting weird. The film unfortunately ends with a monologue that is too preachy for the film's own good.
Trailer: https://www.youtube.com/watch?v=KEg9HQkjKjo
PADRE D'ITALIA (THERE IS A LIGHT) (Italy 2017) ***
Directed by Fabio Mollo
The film is a road trip to the south of Italy taken by a gay man, Paolo (Luca Marinelli) and a pregnant woman, Mia (Isabella Ragonese). Paola meets Mia at a club where she collapses in his arms. At the hospital, he discovers she is pregnant. He looks after her, for a reason difficult to understand. He tries to take her to work and to the father of the child in Naples, but she always ends up abandoned. The problem with this well-intentioned film about two strange people that find each other despite unsurmountable differences (like sexual orientation) is that is it hard to connect or sympathize with Mia who is a totally irritating character from start to end or with Paolo who is such a loser. There is no way it is believable that these two will end up caring for each other. The question asked in the film is "What's more unnatural, a woman who doesn't want children or a gay man who dreams of becoming a father?" Fortunately, the film improves during the second half. Luca Marinelli who plays the lead is an incredible young actor who was also present in two films THEY CALL ME JEEG and NOT SO BAD screened last year at the ICFF.
Trailer: https://www.youtube.com/watch?v=d7iGLyRq1EY
PIUMA (FEATHER (Italy 2016) ***
Directed by Roan Johnson
PIUMA is the story of young love. As young love goes, the lovers are indecisive, immature and often annoying. Ferro and Cate, two teenagers faced with an unexpected pregnancy that turns their world upside down. Their dream of travelling the world is of course, shattered by the pregnancy and the need to complete their final examinations. Hesitant and tentative, the two main characters must navigate through the most complicated 9 months of their lives. Ferro is the more mature of the couple, though director Johnson makes him the more annoying one. Ferro's parents are just as flustered, especially the father. PIUMA is the name the couple decide for their baby. Johnson's film, to his credit, is a sincere study of what appears to be a realistic account of troubled youth and stories like these do not normally have a happy ending.
Trailer: https://www.youtube.com/watch?v=BX9QX1IXdtg
SOMETHING NEW (QUALCOSA DI NUOVO) (Italy 2016) **
Directed by Cristina Comencini
Two good friends end up making love to the same young man. The opening night comedy of the festival, the modern film looks at what happens when a lover is shared among two good friends. Of course, fights occur and the relationship does not really work. Director Comencini can be commanded for tackling a fresh and relatively taboo issue. Not only is the love shared between two girls but the boy is very young, barely of age to indulge in sexual activities. But the film is neither insightful nor funny. Comencini thinks her film is funnier than it actually is. No one really cares about these two rather self pitying women who should get a handle of getting their lives sorted out. A chick flick that no male would be interested in and one that no female will learn anything new from.
Trailer: https://www.youtube.com/watch?v=HOG2S2GMxSw
VELOCE COME IL VENTO (Italian Race) (Italy 2016) ***
Directed by Matteo Rovere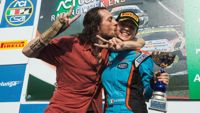 The film opens with the death of the father of the De Martino family. The De Martino family have always had motor oil and gasoline flowing in their veins: they have been putting together and racing cars for generations. Mario, the head of the family, is forced to give way to his very young and exceptionally talented daughter Giulia. She is joined by her 40 year old half brother Loris, a former driver, totally unreliable, but with an extraordinary sense of trajectories and highly knowledgeable about engines. Together, they learn to tolerate each other and return to the track and win. This is not the typical race film where the underdog wins the climatic race at the and to cheers of the audience. But there are enough race scenes, well shot at that, that should interest racing fans. Not a bad movie, showing that blood is thicker than anything else. A problem of the film is that it celebrates drugs and dangerous driving on city streets.