Hot Docs 2018 Toronto
Details

Category: Cinéma - Movies
Published: Friday, 20 April 2018 16:34
Written by Gilbert Seah
HOT DOCS 2018 TORONTO
Hot Docs arrives once again to Toronto with a slew of documentaries covering a wide range of subjects from countries all over the world.
The options are tremendous. What should one see? One way is to pick a subject one is the most interested in, and see the doc on that subject - be it global warming or human rights or racism. Another tactic is to choose a doc on a subject one knows the least about, perhaps on drug addiction in Afghanistan. Or even one with the weirdest subject as in THREE IDENTICAL STRANGERS where triplets discover each other and then also that they were a part of a human behavioural study. Some docs on subjects demand to be seen as in THE GUARDIANS where seniors are kidnapped for money in government sponsored homes.
The festival of Documentaries runs from April 26th to May the 6th.
For the complete program, schedule of films and ticket pricing check the docs website at:
Capsule Reviews of Selected Docs follow:
THE ACCOUNTANT OF AUSCHWITZ (Canada 2018) ****
Directed by Matthew Shoychet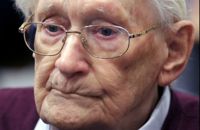 This eye-opening doc, despite its well worn subject of Jews slaughtered in Nazi concentration camps is based on the 2015 trial of 94-year-old Oskar Groning, the Accountant of Auschwitz. He went on trial in his home town in Luneburg, Germany for the murder of 300,000 people, way back in 1944. The case made headlines around the world, as a frail old man took the stand to finally face justice for crimes committed long ago. Director Shoychet shows two sides of the argument, that a precedent must be set for the murders of the past. On the other hand, it could be argued that Groning, like many other Germans that followed served no purpose. The photo of Groning as a young man in uniform makes the guilty man look so innocent, and his current photo at the age of 94, which bears no resemblance at all to the old photo stresses the relevance of prosecuting the man. The doc is quite different here, as many Germans are interviewed and have their say on camera. The Germans get to debate both sides. Survivors and Nazi hunters alike are therefore torn over whether he should be prosecuted at all. The film also contains archive footage with relevant commentary on the Nuremberg Trials. But the highlight of the film are the testimonies of the survivors, prosecutors and other interviewees whose words bring shivers regarding what have transited in the past. Oskar Groning just passed away March of this year.
Trailer: (unavailable)
ANOTE'S ARK (Canada 2018) ***
Directed by Matthieu Rytz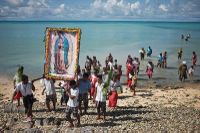 A clever title for a documentary on the Pacific island of Kikibati. The nation of Kiribati (population: 100,000) is one of the most remote places on the planet, seemingly far-removed from the pressures of modern life. Yet it is one of the first countries that must confront the main existential dilemma of our time: imminent annihilation from sea-level rise due to global warming from climate change.
The film opens with a shot of the island surrounded by crystal clear blue waters. The island is described as the corners of the earth as it streets north and south and east and west of the international date line. The fishing scene also shows how rich the waters are.
Anote is the then President who needs to build an ark for the nation to survive the flooding, similar to Noah building an ark to save the animals from the world flood. The film documents the desperation of the people as the tides rise and flooding occurs. Lots of footage here including scenes of devastation resulting from the floods. While Kiribati's President Anote Tong races to find a way to protect his nation's people (he attends the Paris Climate change Conference with other world leaders including ex-U.S. President Obama) and maintain their dignity, many Kiribati are already seeking safe harbour overseas. The film follows one such couple who sees New Zealand as their new home.
Both director Matthieu Rytz, and subject President Anote Tong will be present during the Hot Docs screening.
Trailer: https://vimeo.com/244728466
CHEF FLYNN (USA 2018) ***
Directed by Cameron Yates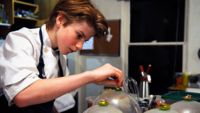 Documentary CHEF FLYNN picks 10-year old Flynn as is subject when Flynn first transforms his living room into a supper club using his classmates as line cooks. With sudden fame, Flynn outgrows his bedroom kitchen, and sets out to challenge the hierarchy of the culinary world. Like most docs on a subject that runs out of material, it gets distracted with other issues such as, in this case, the mother's filming obsession, Fynn's relationship with his family (father and sister) and his new restaurant's opening night. But when the camera is on the young chef prodigy, it gets the most interesting. To director Yates' credit, he ties the other issues to Flynn's culinary duties. Flynn's culinary creations look marvellous on screen though this fine dining experience may only be suited for the rich and wealthy. Still, it is a rewarding experience to see a talented youth (seen through the ages of 10-15) experience both the highs of his talent and pains of growing up too quickly.
Trailer: https://www.youtube.com/watch?v=OvaouhB0qzc
GURRUMUL (Australia 2018) **
Directed by Paul Williams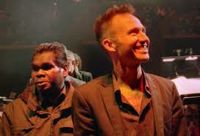 GURRUMUL is a name most people have never heard of. So the image of him as seen on the cover of "Rolling Stone" magazine must stand for something. Celebrated by audiences at home and abroad, Indigenous artist Geoffrey Gurrumul Yunupingu was one of the most important and acclaimed voices to ever come out of Australia. Blind from birth, he found purpose and meaning through songs and music inspired by his community and country on Elcho Island in far North East Arnhem Land. Living a traditional Yolngu life, his breakthrough album 'Gurrumul' brought him to a crossroads as audiences and artists around the world began to embrace his music. William's film follows his life as told by his mother, father, uncle and assortment of relatives. He has two white folk aid him in publicity and his work. GURRUMUL is unlike most biographies where there is downturn and then redemption. But Gurrumul is no angel either, as his manager gets extremely frustrated when he does not show up for his American tour. But the film that stresses Gurrumul's voice and songs comes across as a rather lacklustre affair despite director William's effort of educating the audience on Gurrumul's tribal responsibilities. The only time the film comes alive is the duet performance of "Every Breathe you Take," by Gurrumul and Sting.
Trailer: https://www.youtube.com/watch?v=TXa3gw3g4C4
LAILA AT THE BRIDGE (Afghanistan/Canada 2018) ***
Directed by Sylvia Mirzaei and Gulistan Mirzaei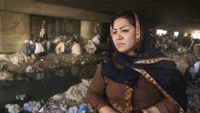 The bridge in Kabul, Afghanistan is a filthy and disgusting place. Smelling of human faeces and vomit, this is the makeshift dwelling of hundreds of homeless Afghanistan drug addicts. As the difficult to watch (for reason of its material and harsh depiction of human hardships) film informs at the start, 90% of the world's opium is grown in the country with more than 11% of the population addicted. Laila is the Mother Teresa who brings the addicts home, feed, clothe and more important, try to get them clean and to stay clean. This is her story. Laila is shown as a dedicated mother of sorts but not without faults. She can be too forward, loud, and bossy, especially when trying to get government aid for her exploits. The film shows two crucial scenes at the bridge, one with her distributing limited food and the other searching through the rubbish for a convert. The film ends on a note of hope with her possibly having a way to get funds for her project. The film is also made more alive by examining a few addicts in detail, one of whom is Laila's brother who is presently clean and helping her, after 25 years of addiction. A very eye-opening documentary set in a country with a culture North Americans know very little about.
Trailer: https://www.youtube.com/watch?v=it8INQaTcB0
DIE NACHT DER NACHTE (THE NIGHT OF ALL NIGHTS (Germany 2018) ***
Directed by Nesrin Samdereli, Yasemin Samdereli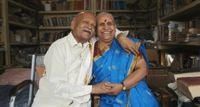 Likely the most charming documentary at Hot Docs 2018. Together for a lifetime? Who can manage this? And who still wants this? What seems to be an oddity for us nowadays was the norm for the generation of our grandparents. The doc follows four separate lifelong couples from different countries as they experience and talk about traditional wedding night. The couples are elderly couples from Japan, Germany and India including a gay couple from Pennsylvania in the United States. The film is shot, with subtitles in Japanese, Hindi, German and English. This is a simple documentary not requiring much research or what it lacks in terms of content and history is compensated by the amusing observations on human behaviour. Of all the couples on display, the Indian couple is the most endearing. The segment where the husband and wife describe their first 'touching' encounter in the cinema is unforgettable and in itself is worth the price of admission.
Trailer: https://www.youtube.com/watch?v=N_Dg-py6X_U
OVER THE LIMIT (Poland/Germany/Finland 2017) **
Directed by Marta Prus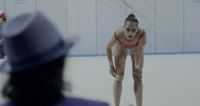 OVER THE LIMIT begins with a beautifully choreographed display go gymnastics by Olympic gymnast Rita Mamun, doing wonders with a hoop. To the audience's surprise, she is then violently chided by her trainer, a Ms. Irina despite praise from her coach, Ms. Amina. The film concentrates its focus on these three individuals. Ms. Irina is depicted as the wicked manipulative witch who hurls abusive insults and personal attacks on both Rita and the coach. The main goal is the winning of the Olympic goal which becomes the climax of the doc. Is this successful Russian system for training athletes transgresses boundaries really worth it? Results may show but the path and destruction of human lives might not. This is what Prus intends to show and succeeds. Elite rhythmic gymnast Rita Mamun has reached a crucial moment in her career. This is a difficult to watch nail-biting behind-the-scenes drama about the intense physical and mental labor put into a sport that thrives on its beautiful aesthetics. But there are too many repeated segments of Ms. Irina abusing Rita. The audience gets the point early in the film.
Trailer: https://www.youtube.com/watch?v=W47fIKJJAVw
TRANSFORMER (USA 2018) ***
Directed by Michael Del Monte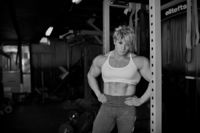 TRANSFORMER, the true transgender story of a muscled power lifter undergoing a sex change operation offers an unique perspective on the transgendered community and how each transition is unique to the person transitioning. Janae (aka Matt) Kroc was as masculine as one can be prior to her transition, a world record powerlifter renowned for her masculinity. When she transitioned, she struggled with remaining true to her passions as a powerlifter while wanting to become more feminine. The film illustrates a lesson that transitioning does not mean leaving one person behind to become another - so audiences should be prepared to be taking for quite the ride.
The film also shows the sadness at people in the world who still stupid and are unacceptable of gays or people who are different in general. A moving while disturbing segment has protesters during an LGTT march. These people carry just awful and nasty holding signs like LGBT (Let God Burn Them) and HOMO Sex is Sin. Well, Kroc has admitted earlier in the film that he is still attracted to females and not men. After the segment when the camera then focuses on Kroc back in male clothes, one certainly gains a new respect for this man - one who is able to stand up for what he believes and to challenge all the unaccepting idiots in the world, who are the ones who should burn in hell. Director has lifted this film that could have been a freak show turn into something more insightful.
Trailer: https://vimeo.com/233416373
THREE IDENTICAL STRANGERS (USA 2018) ***
Directed by Tim Wardle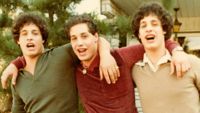 The doc, THREE IDENTICAL STRANGERS opens in the year 1980 when 19-year-olds Robert Shafran and Edward Galland found each other at the same community college and realized they were twins separated at birth. To each other's surprise, they discover a third. Triplets at birth finding each other is news. The surprise triplets became fast friends and overnight media sensations. Can the happiness last forever? Every story eventually has a dark side. The dark side involves the discovery at the adoption agency that the triplets (as are other twins) were part of an experiment conducted on human behaviour. The film's best part is the insight given by a few of the interviewees. One, a lady who worked at the adoption research centre gives her opinion that it was not considered inappropriate in those days to do experiments of this kind. Psychology was new and in, and it was a cool subject then, not like today.
A documentary is often as good as its subject. A far as Wardle's documentary goes, what other film could have topped this with a more intriguing subject. THREE IDENTICAL STRANGERS will eventually be praised as a film despite its glaring flaws. One wishes that more conclusion would have been presented regarding the experiments